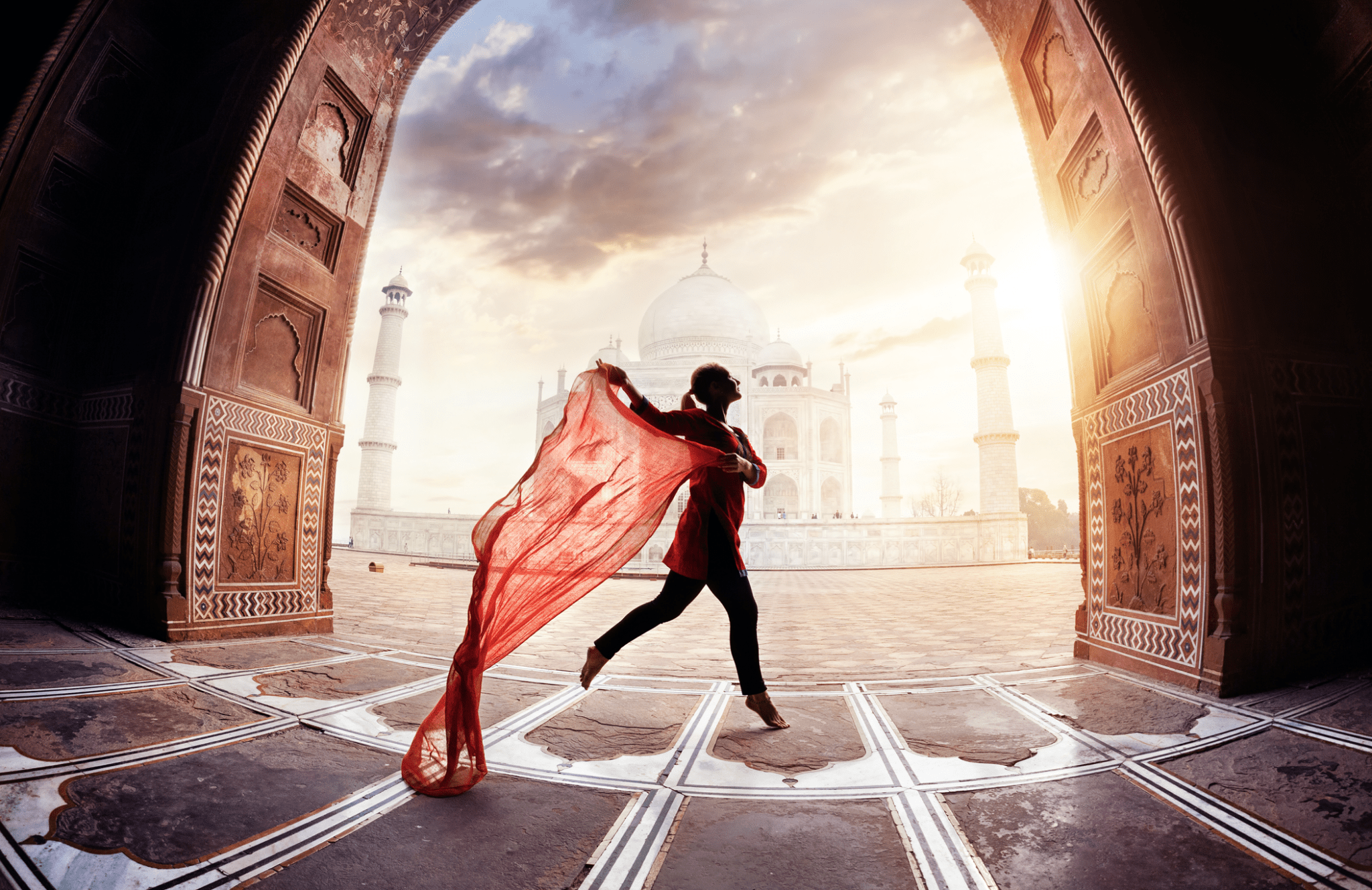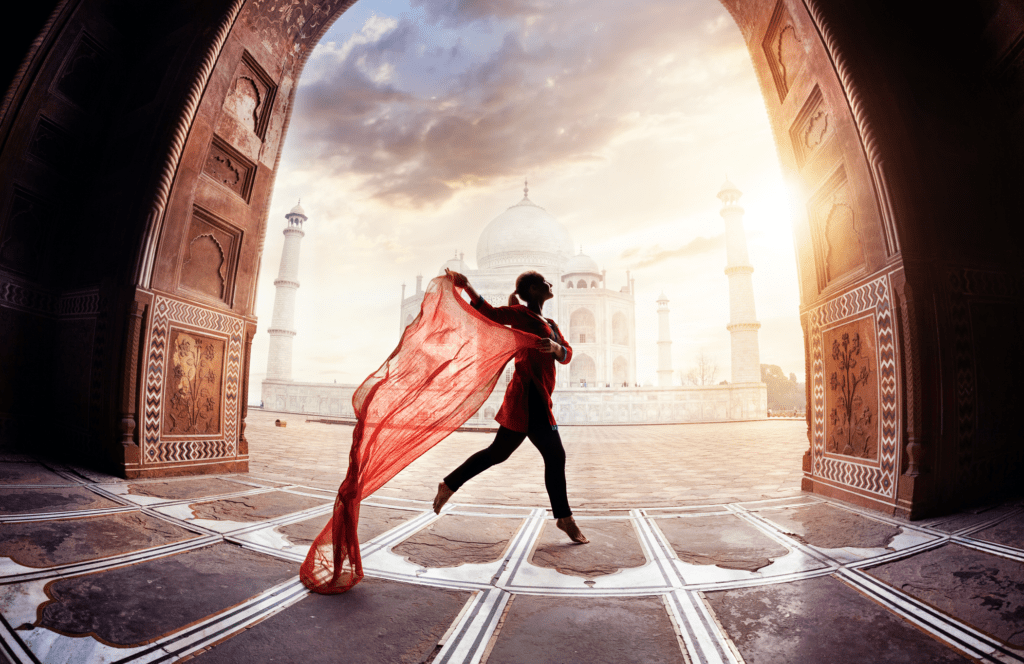 Cultural appropriation or misappropriation happens when a person from one culture adopts something from a cultural group that is not theirs. This contrasts with cultural appreciation, when they respect the symbolism and artifacts of the original culture. You can avoid mixing up the two by learning the difference between cultural appropriation vs appreciation and what it looks like to appreciate other cultures respectfully. (Estimated reading time: 9 minutes)
---
"No culture can live if it attempts to be exclusive."

— Mahatma Gandhi
---
In 2013, singer Selena Gomez received a lot of praise for her elegant performance at the MTV Movie Awards. But it also stirred up controversy.
Dressed in a flowy, red, chiffon dress and a large, sparkling bindi on her forehead, she wowed audiences as she sensually danced to her latest single, "Come & Get It."
It seemed appropriate for her to wear ethnic-inspired clothes and accessories as the song has an unmistakable Indian flavor. But not everyone who watched it felt that way. Gomez came under fire from Hindu religious groups for wearing a bindi, as they considered it culturally insensitive.
Gomez defended herself, claiming to have done her homework and that she was paying homage to Bollywood. She learned about the culture and found it beautiful. "I think it's fun to incorporate that into the performance," she said. But her justification didn't abate the storm of criticism.
Gomez was not the first artist to wear a bindi. Music fashionistas like Gwen Stefani, Madonna, Katy Perry, and Lady Gaga have also worn one.
The bindi is much more than a Bollywood-inspired accessory. It's a traditional Hindu symbol emblematic of feminine energy. Sometimes referred to as the third eye and the flame, it holds auspicious spiritual and religious significance.
Instead of viewing Gomez's attire as a nod to the Hindu culture, many religious leaders rebuked it, claiming that the bindi should not be thrown around loosely as a fashion accessory and be used for seductive effects.
This sort of "borrowing" from other cultures is not uncommon – especially in fashion and entertainment. But what makes it offensive is not that a person adopted artifacts of a culture, but rather, their lack of understanding of its significance.
We may never know if Gomez knew the bindi's religious significance and her intention behind wearing it. But we do know that her choice to wear it offended those for whom it's sacred. What appeared to many as an attempt to make a fashion statement was labeled as cultural appropriation by those impacted. What we need to take away from this incident is that we must do our due diligence and examine our intentions in adopting the artifacts of another culture.
Knowing the difference between cultural appropriation vs appreciation is how to avoid making a similar gaffe. If we want to pay homage to another culture, we can do it from a place of respect, knowledge, and admiration. Even if it comes up against criticism, our consciences are clear.
What is cultural appropriation?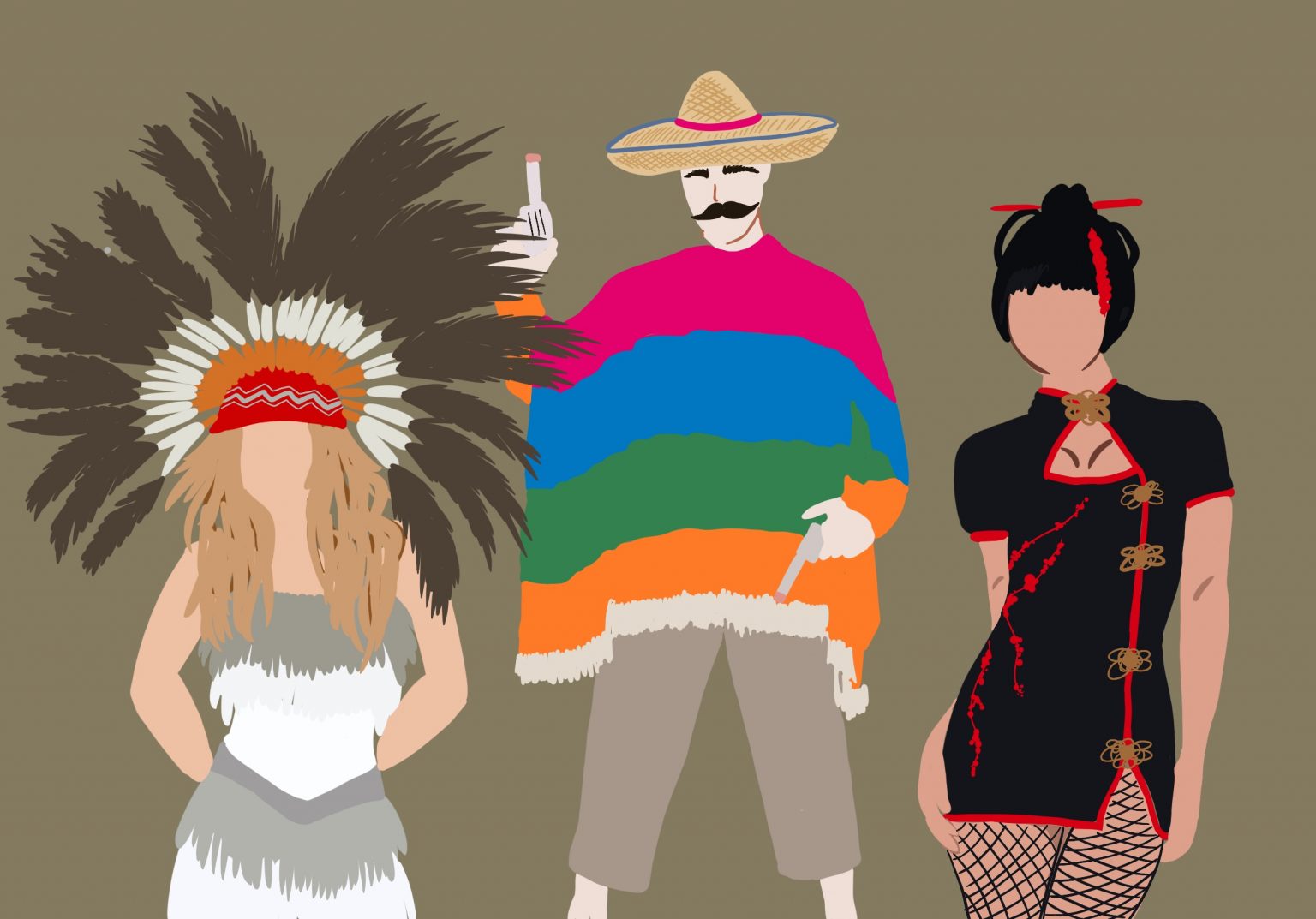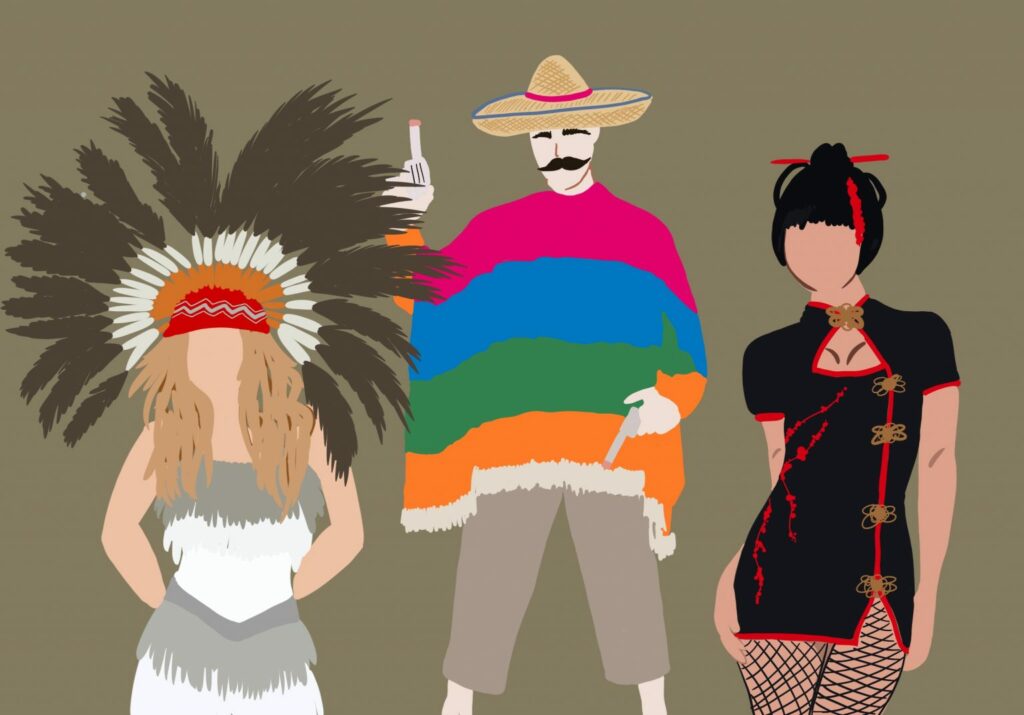 Besides the world of pop culture, you may have heard the term cultural appropriation on social media, in the news headlines, or during a dinner conversation. But what does it really mean?
Cultural appropriation or misappropriation happens when a person from one culture (usually the majority group) adopts the trends, styles, fashion, makeup, ways of speaking, and iconography of a cultural group that is not theirs.
Those guilty of cultural appropriation borrow cultural elements from a group, not realizing they're stealing a part of a group's identity and using it as their own without understanding its meaning and history. This is both ignorant and insensitive to the cultural group affected.
The history of cultural appropriation
The term "cultural appropriation" was first used academically in the 1980s to discuss colonialism, Western expansionism, and the connection between majority and minority groups. Eventually, the phrase moved from academic to mainstream culture.
The act of cultural appropriation is nothing new. Through colonialism or historic trade, Western culture often discovered and adopted elements of other cultures and made them their own. This often went as far as culture looting, where the invaders would steal cultural property from people and take it to hoard, trade, or display.
Looted artifacts like ivory, handcrafts, and jewelry were taken from countries in Africa and Asia to be traded and sold in European markets without regard for the original owners. Today, people equate borrowing cultural symbols with the physical looting that happened in colonial times.
But colonialism was not the only way people appropriated cultures in the past. American cowboys began wearing hats similar to sombreros during the Civil Wars after seeing the Mexicans wearing them. Western travelers who visited the Middle East and the Orient adopted clothing styles, including silk coats and neckties, because of their exotic appearance.
While colonial looting is largely a thing of the past, the modern equivalent is borrowing cultural elements from another group without showing it the proper respect. That's why the term cultural appropriation has become part of the mainstream conversation so that it can be recognized and condemned. It's also crucial to know the difference between cultural appropriation vs appreciation.
Types of cultural appropriation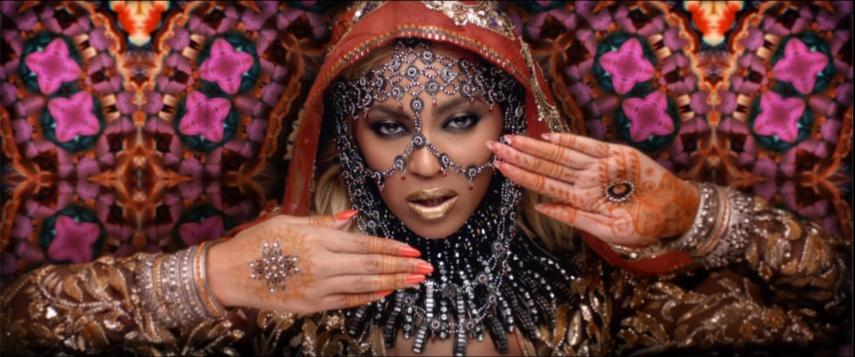 Many people engage in cultural appropriation without realizing that they are doing so. Knowing the different types of cultural appropriation will make it easier to understand.
Here are some common ways that one group of people culturally appropriate elements of another:
Symbols and iconography (examples: Chinese characters, Polynesian tribal symbols, and Celtic art)
Hairstyles (examples: Ghana braids or cornrows, and Bantu knots)
Mascots (examples: Sports teams using Native American tribal names or images)
Music (examples: Singers like Elvis Presley, who used a lot of the style and lyrics of black musicians)
Art (examples: Non-Indigenous artists using Indigenous artwork and techniques in their creations and selling it for profit)
Costumes/fashion (examples: Attendees of festivals like Burning Man wearing bonnets, bindis, headdresses, tattoos, war paint, etc.)
Rituals (examples: Using Native American practices like sweat lodges. Or invoking spirit animals for recreational purposes without knowing their spiritual significance)
Language (examples: Misusing phrases and words like "bottom of the totem pole," "guru," and "tribe" that hold meaning in a specific culture without appreciation and context
Other areas where people can culturally appropriate: Food, decoration, dance, artifacts, medicine, wellness practices, festivals, and accents.
Why is cultural appropriation harmful?
When a cultural object or practice is appropriated, it's a sign that the user does not understand its origins or purpose and does not appreciate the difference between cultural appropriation vs appreciation. Knowing the harmful impact it can have on those who belong to the culture being appropriated will make us more sensitive about our actions.
Cultural appropriation is harmful for these reasons:
It perpetuates stereotypes of non-dominant cultures. When people use elements of a culture, such as their clothing style or language, they reduce its significance and feed the stereotypes. This adds to the negative experiences of the non-dominant culture.
It can impact the mental health of those affected. Studies show that the continual appropriation of culture can decrease its members' self-esteem, sense of worth, and ambition.
It continues the oppression and exploitation of the non-dominant culture. When a dominant group continues to steal parts of other cultures, it perpetuates the economic disadvantage they face. For instance, white Australian business owners stealing Indigenous artwork to create and sell souvenirs.
It breeds contempt and exclusion. Disenfranchised groups can perceive cultural appropriation as condescending and a sign of disregard for their people. This puts any power imbalances into focus and causes less dominant groups to feel left out.
Cultural appropriation vs appreciation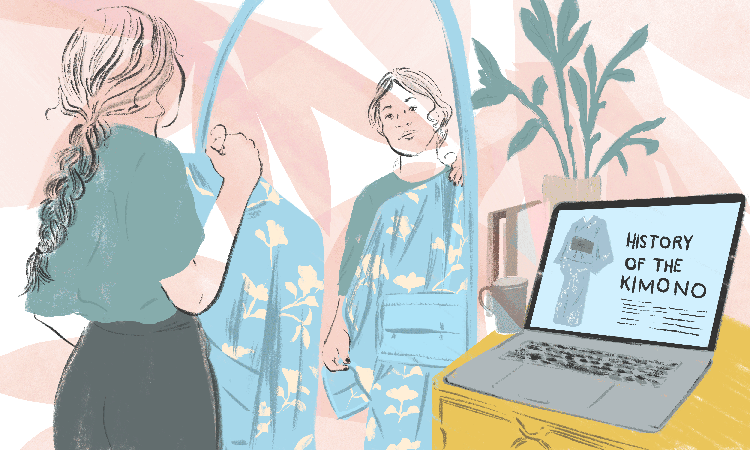 Cultural appreciation is the opposite of cultural appropriation. When you appreciate a culture, you honor, respect, and celebrate what it stands for. The key to practicing appreciation is understanding the culture you're borrowing from, including its history of marginalization and oppression.
Some people say that appropriation does not exist because no culture is completely original, having been influenced by other cultures throughout their history. Artists and creatives are also given a pass, as their art is open to interpretation. But what separates appropriated art from appreciated art is a genuine interest to learn.
This respect was demonstrated by Michael Jackson when he was preparing for a dance with Yamuna Sangarasivam, an Odissi Dancer he was going to perform with in the music video of "Black or White." In an interview, Sangarasivam said she was pleasantly surprised about Jackson's strong curiosity about the folk dance.
"He wanted to know the history of the dance. Its connection to spirituality and the mythology and cosmology that are being represented in the movement. Like what all the 'mudras' meant. And how I came to understand and learn Odissi. He recognized me as a person," she said.
It's also important to note that cultural appropriation differs from cultural exchange. For centuries objects like pottery, tea, and jewelry have been shared between cultures. These borrowings are different because all cultures are on equal footing, and one isn't superior.
Cultural assimilation is also commonly mistaken for appropriation. Assimilation happens when a minority culture adopts features from a dominant culture to fit in. An example of this is an immigrant going to accent reduction classes to sound more like the people in the country. Doing so allows them to have better job prospects and avoid discrimination.
How do we avoid cultural appropriation and be sensitive to other cultures?
Learning to walk the line between celebrating and appropriating cultures is an important skill to develop. If you're considering trying a new dance, wearing a hairstyle you saw on an Instagram influencer, or going ahead with a cool Halloween outfit idea, but you want to avoid disrespecting any culture, do a gut check and ask yourself these questions:
Are my actions going to perpetuate a stereotype?
Am I using something sacred for my enjoyment and outside its intended use?
Have I credited the source of inspiration behind what I'm using?
If you respond "no" to all these questions, you lean more toward cultural appreciation. If you're still doubtful, avoiding the practice, style, or outfit may be best.
Here are some other steps you can take to avoid cultural appropriation:
1. Educate yourself: Take time to learn and appreciate a culture before you adopt or borrow aspects of it. Attend events and places (like restaurants) frequented by people from that culture and learn from its members. Learn about the history of marginalized and disenfranchised people so you can celebrate their heritage, knowing what their people had to go through.
2. Acknowledge the origin of items and give credit: Instead of claiming items from other cultures as your original ideas, clarify the origins to others and let them know why you want to celebrate them.
3. Be sensitive and raise awareness: For many, their cultural identity and traditions are very important to them. When dealing with elements of their culture or environment, do your best to respect them as you would like them to respect your own. If you see anyone culturally appropriating, bring it to their attention.
For instance, if a friend has invited you to the home to celebrate Diwali, the Hindu festival of lights, ask them if there are any protocols you should keep in mind when you're at the event.
4. Practice cultural appreciation: If there's a culture that you're drawn to, there are many creative ways to show that to the world. For example, if you're a fan of K-pop and you're curious about Korean culture, there are several ways you can show your appreciation, like immersing yourself in Korean art and cuisine, supporting small businesses run by the Korean community in your town, and engaging in activism to prevent the marginalization of their people.
There are plenty of exciting and different cultures around the world. Each comes with its unique traditions, customs, and worldviews. Through education and travel, you'll be able to broaden your mind by seeing how others live and think differently. When you put in the time and effort, you'll let your fellow humans know they are seen, heard and appreciated.
All my best on your journey,
Seline

Question for you: After learning the difference between cultural appropriation vs appreciation, have you ever witnessed cultural appropriation? Why do you think it was appropriation, and what could they have done differently?
Did you like this post? Sign up below, and I'll send you more awesome posts like this every week.
Get My Weekly Insights Via E-Mail And Receive A Free Copy Of My New E-Book!
'The Fast Track Guide to Turning Your Dreams into Reality'