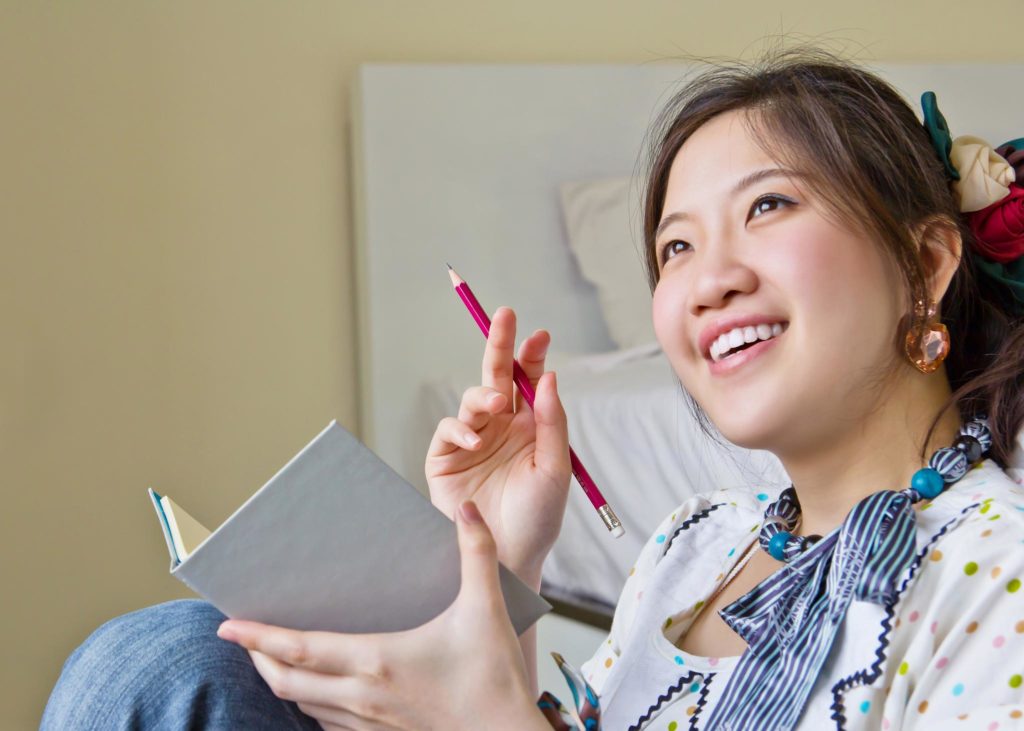 Asking the right questions is one of the most effective self-discovery and relationship building tools. As kids we asked a lot of questions but we lose that as we grow up. Recapture this ability by learning the art of asking good questions in your personal and professional life. (Estimated reading time: 7 minutes)
"The ability to ask the right question is more than half the battle of finding the answer."

— Thomas. J Watson
---
Have you ever noticed how kids love to ask so many questions?
They unabashedly throw questions at grown-ups every time they encounter something that piques their curiosity. "Why is the sky blue?" "Why do we need to sleep" "Where do unicorns live?"
With kids, the questioning never seems to end.
We too were once like that but, over time, our urge to asking the right questions slowly faded away. Our attention became redirected towards finding answers to challenges and predicaments that we encountered in life. Our schools, workplaces and society conditioned us to become solution-oriented.
Having answers to big, complex problems seems like it could get us ahead, and be more profitable than trying to craft good questions. The only place that asking the right questions seems like a helpful skill is if you are a philosopher, interrogator or a game show contestant on the famous show Jeopardy!
But asking a well-thought-out question is actually one of the most effective cognitive tools.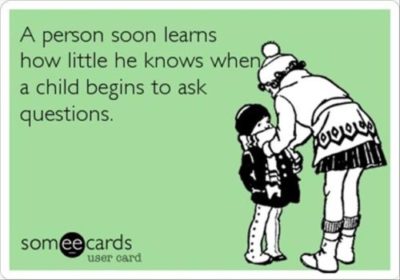 In fact, most of the major historical discoveries occurred because of fearless individuals who were driven and enthused by their questions. The Wright brothers asked, "What if we could fly?" Copernicus wondered, "Is Earth really the center of the universe?" Isaac Newton thought, "I wonder what caused this apple to fall down?" Edison pondered, "Are there other ways to light up our homes besides candles?"
Asking the right question stimulates our innovative capabilities because our minds are natural problem-solvers. The brain is a versatile and malleable device that loves to brainstorm, conceptualize, analyze, process and soak in new data. This immense potential can be easily tapped into with the right questions.
Questions act as cues that direct our thoughts towards specific directions. Once we ask a question, the part of our brain known as the Reticular Activating System (RAS) immediately gets to work to find answers. The RAS is a portal that filters all incoming information and affects what you pay attention to.
If you focus on something like a creative project, building a vacation itinerary or solving an issue at work, your mind will instantly create ideas, thought patterns and solutions that you wouldn't have had otherwise, without you honing in on what you wanted to devote your attention to.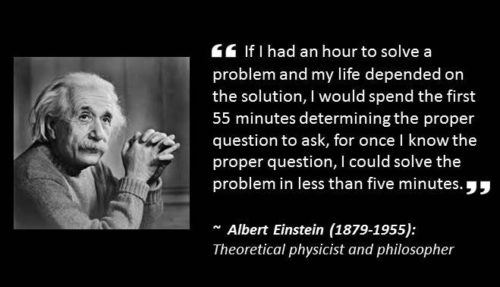 While enrolled in my life coaching training program, one of the fundamental skills that we had to master was the ability to structure and ask purposeful questions that encourage our clients to tap into their resourcefulness. This boosts their confidence because they realize the potential that lies within them.
During my coaching sessions, I repeatedly witnessed the power of good questions when it comes to shifting people's perspective towards a positive and proactive approach when dealing with a tricky situation. You can instantly transform their attitude and steer them towards new directions by asking the right questioning.
One of my clients, Annie, was frustrated by her sensitive nature and propensity to get hurt easily. She viewed it as flaw that made her life seem like an emotional minefield. I asked her, "What if your sensitivity is a strength? How could it help you?" Annie paused for a minute and then said, "It could be… I guess it makes me a more compassionate listener who's really good at comforting people."
You can see how this simple question began transforming how Annie perceived her sensitivity after she started seeing it as an asset for the first time. She used to ask herself, "Why do I always get hurt?" which solidified her base assumption that being sensitive is a bad thing. This got stored as a self-defeating narrative in her mind. This fixed thought pattern could be easily validated whenever she was triggered.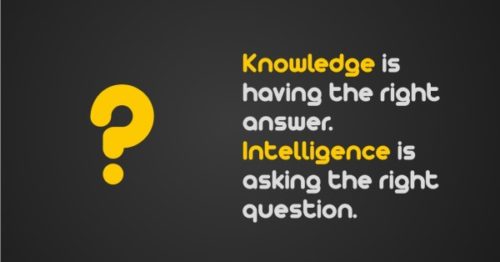 Whether an experience is framed as a growth opportunity or a destructive event largely depends on the questions that you ask yourself about an experience. The mind replays events in a loop based on how you've digested and stored them in your long-term memory and self-narrative. That's why it's critical ask empowering questions when you're in self-reflection mode.
Besides breaking negative thought patterns, asking simple yet purposeful, open-ended questions has the potential to crack open the hidden inner treasure within you that's filled with gems of wisdom, that can offer breakthroughs, creative insights and solutions to problems.
According to Tony Robbins, quality questions create a quality life. He believes that successful people ask better questions and, as a result, get better answers. So don't hold yourself back from questioning yourself and others and give your mind the freedom to explore unknown territory.
Here are some simple ways by which you can enhance and grow your abilities in asking the right questions:
1. Be still and take mental breaks: As a society, we've become so busy and preoccupied with our daily routines that we've turned into "human-doings" instead of human beings. When our minds are cluttered with thoughts, worries and concerns, we simply don't have the capacity to process information that's required to frame intelligent questions. If you find yourself in such a position, you can step out of it by taking regular breaks from you daily commitments to be still and give your mind the rest it needs by engaging in relaxing activities such as nature walks, meditation, listening to music or having warm baths.
2. Allow your imagination to wander: Logic can give structure to your thoughts but it's your imagination that fuels the creative inspiration. When you have time alone with your thoughts, your ideas can unveil themselves from the deeper and richer recesses of your intuition. When you allow your imagination to wander, you're giving your mind the space and time to soak up and simmer information in your mental processing unit. It's essential that you pay attention to every hunch, instinct and impression that you receive because new ideas and questions could easily slip away during this nascent stage. You have to listen and take note of them the instant you get a stroke of insight.
3. Journal: Journaling is a powerful practice that can have a favorable impact on your overall wellbeing. The act of writing engages your analytical and rational left brain while also allowing your right brain to intuit and feel. Journaling helps us go beyond our analytical left brain perspective and hear the voice of our creative and intuitive side. Unexpected ideas, hunches and questions can come through from our writing. The next time something puzzles you, grab a journal or open a Word document and type away! Choose journaling prompts to frame your thoughts and ideas.
4. Let curiosity lead the way: In her book, Big Magic, writer Elizabeth Gilbert says, "Curiosity does only one thing, and that is to give. And what it gives you are clues on the incredible scavenger hunt of your life." I wholeheartedly agree with her. Following your curiosity gives permission to that inner wisdom within you to guide you towards something that could be exciting. When you're curious about a particular subject, you're more likely to come up with intelligent and well-framed questions because you're passionate about finding the answers to whatever it is that you're being drawn towards.
5. Use questions to connect with others on a deeper level: Asking questions is an excellent relationship-building technique that can be used to get to know someone better and build familiarity, rapport and intimacy. Some of the best interviewers, like Oprah Winfrey, Barbara Walters and Larry King, have learned to do this with finesse, and it's through their deep and insightful questions that we're able to get a more intimate look into the lives of the famous. The good news is that you don't have to be a well-seasoned journalist to asking great questions. All you have to do is to be curious about others and take a genuine interest in the people that you encounter. Listen to them and find out what matters most to them and use that as a lead into finding out more about their personality and interests.
There's an old adage that states that one should first seek to understand before they can seek to be understood. By tapping into our imagination and asking the right questions, we'll gain access to a higher wisdom which will eventually lead us to a life of purpose.
All my best on your journey,
Seline

Question for you: What does asking the right questions look like to you? Why is it important in your development as a person?
Did you like this post? Sign up below and I'll send you more awesome posts like this every week.
Get My Weekly Insights Via E-Mail And Receive A Free Copy Of My New E-Book!
'The Fast Track Guide to Turning Your Dreams into Reality'