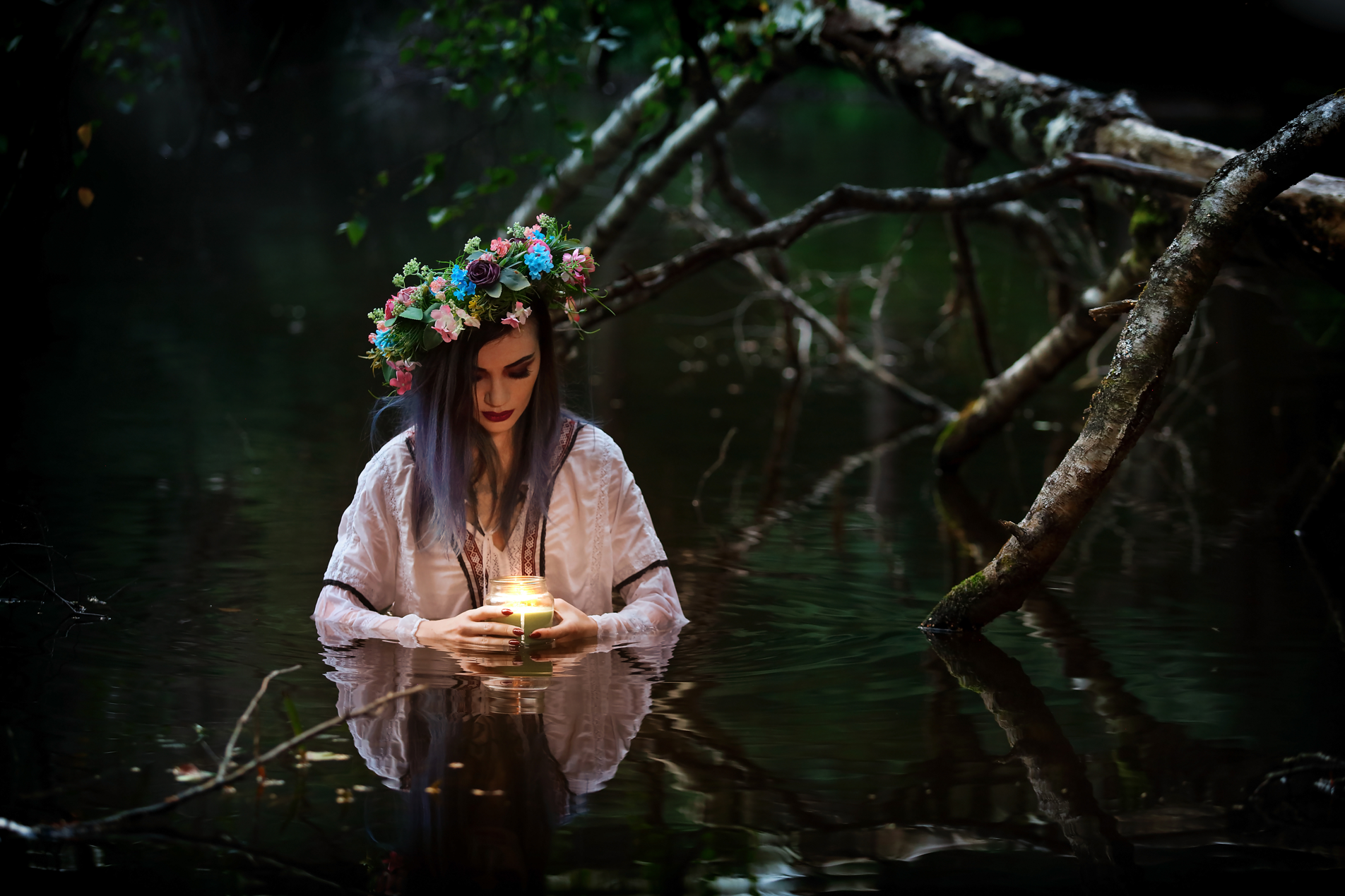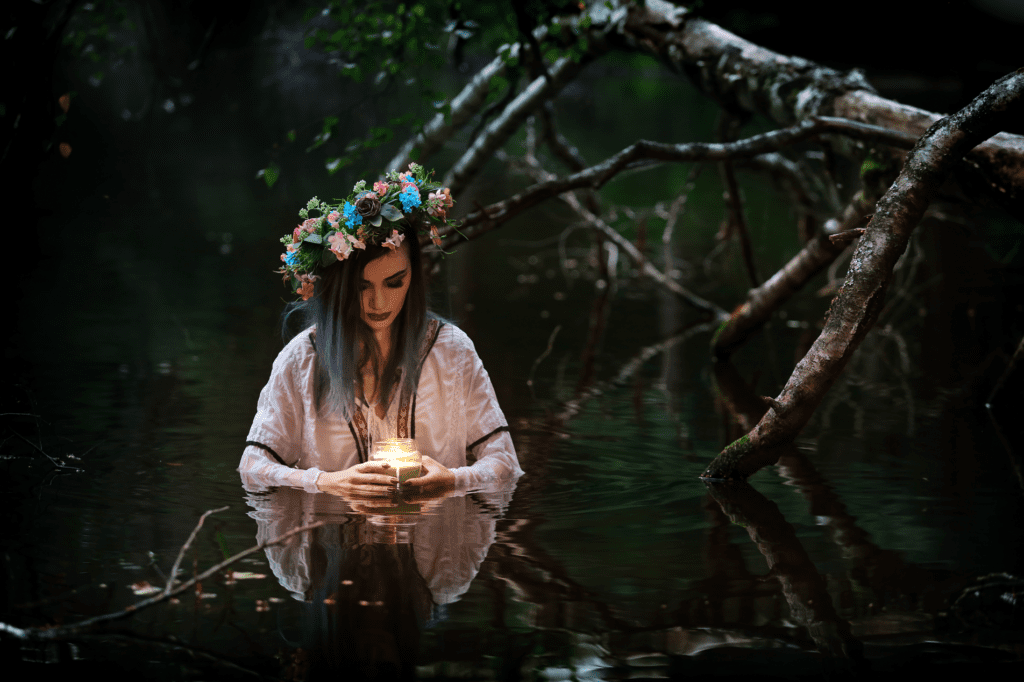 What is Paganism? It is a broad term for various traditions that are commonly polytheistic and steeped in the natural world. Because Pagan beliefs are so entrenched in nature, there's genuine respect for the planet and conserving its beauty and resources. Today, Paganism is either shrouded in mystery or misunderstood. Find out everything you need to know about Paganism, including its beliefs, history, early and modern-day practices, and how we can incorporate some of it into our own lives. (Estimated reading time: 9 minutes)
---
"Paganism is the worship of life itself in its supreme mysteries of ecstasy and love"

— Jane Ellen Harrison
---
In our fast-changing world, more and more people want structure or a practice to feel connected to something greater than themselves.
However, many people are increasingly moving away from organized religion because it doesn't nourish their spirits or give them the answers they seek.
In his book, "A Religion of One's Own: A Guide to Creating a Personal Spirituality in a Secular World," Thomas Moore identifies this group as those who enjoy discovering and integrating wisdom from various faiths. He writes:
"To be religious even in a personal way, you have to wake up and find your own portals to wonder and transcendence. I'm recommending a courageous, deep-seated, fate-driven, informed, and intelligent life that has a sublime and transcendent dimension. It can be shared in a community. It can be accomplished inside or outside a traditional religious organization."
To create a personalized faith and find your own way to connect with higher realms, it's worth looking into other traditions. Moore suggests keeping an open mind and looking into practices that are not considered mainstream, such as nature appreciation, art, and dream analysis.
If the idea of a nature-based form of reverence sounds appealing to you, Paganism might be something you can consider adding to your practice. It's a quickly growing spiritual movement, loosely based on the religions of ancient times, with customs still practiced to this day.
What is Paganism, and how is it different from other religions?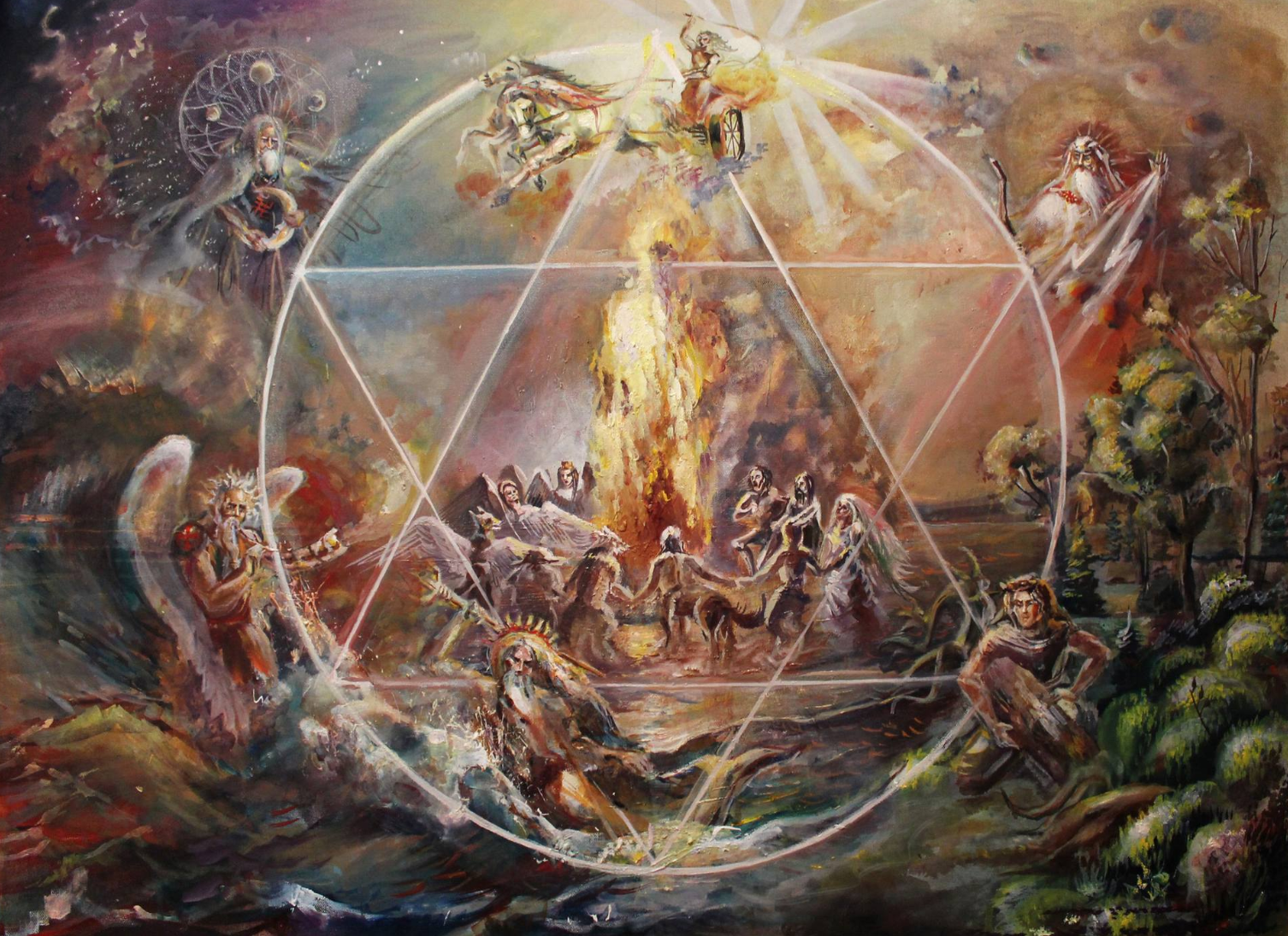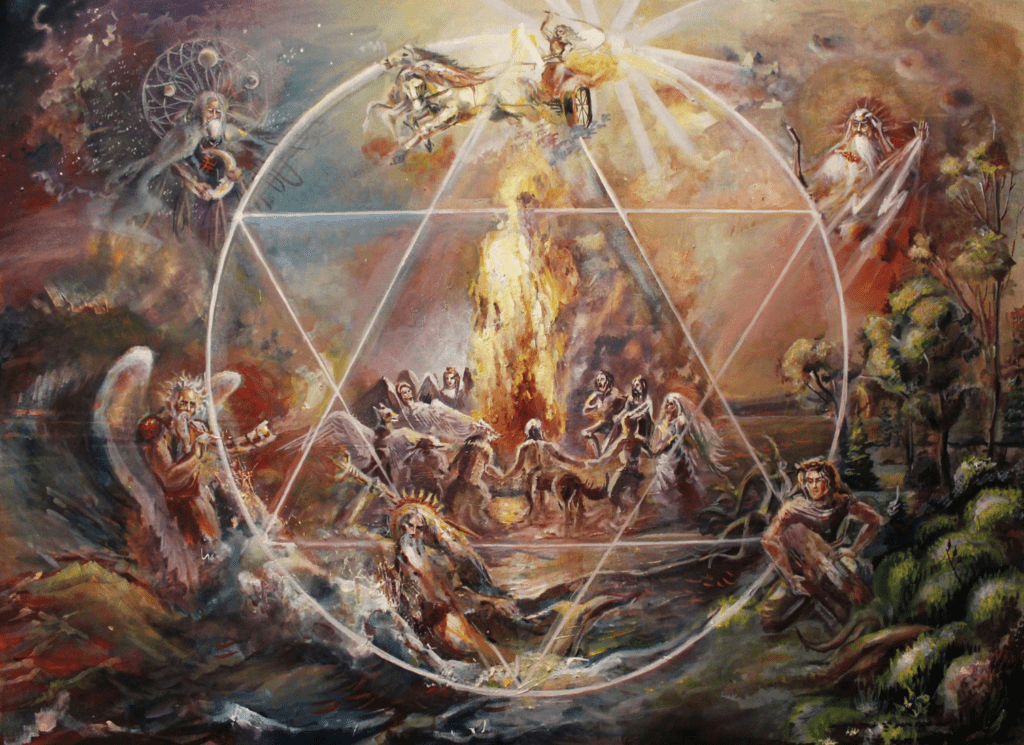 Paganism is a broad term for various traditions like shamanism, animism, Goddess spirituality, Faerie tradition, Wicca, Druidry, and Norse religion. Other forms are derived from Celtic, Roman, Egyptian, Greek, Canaanite, and some Afro-Caribbean religions.
Pagan beliefs are commonly polytheistic and steeped in the natural world. Followers focus on honoring deities, celebrating rites of passage (birth, marriage, death), and observing natural cycles like the waxing and waning of the moon.
Some consider Paganism as a religion outside of the major ones like Christianity, Judaism, Islam, Hinduism, and Buddhism, while others define it as non-religious. Paganism is not seen as a traditional religion, mostly because it has no official doctrine.
Followers believe that the divine is present in the natural world and not in some faraway place that can't be reached. They view the world as a place full of joy and life instead of sin and suffering. Because their beliefs are so entrenched in nature, there's genuine respect for the planet and conserving its beauty and resources.
While Paganism is incredibly varied and originates from different traditions, the one thing that practitioners have in common is a deep reverence for the physical world and a belief in a non-authoritarian religion. They do not recruit members and believe that everyone has the right to find their way to the divine and that no one religion is better than another.
There is also a strong focus on rituals, and followers draw from several sources to create them. Rituals often include dancing, chanting, and drumming. Food and drink offerings are made to ancestors and gods and may also be shared by participants during a feast.
Pagans also use representations of the Earth's elements — air, fire, earth, and water — for consecration and cleansing rituals. They might burn incense and anoint themselves with salt water to prepare.
History of Paganism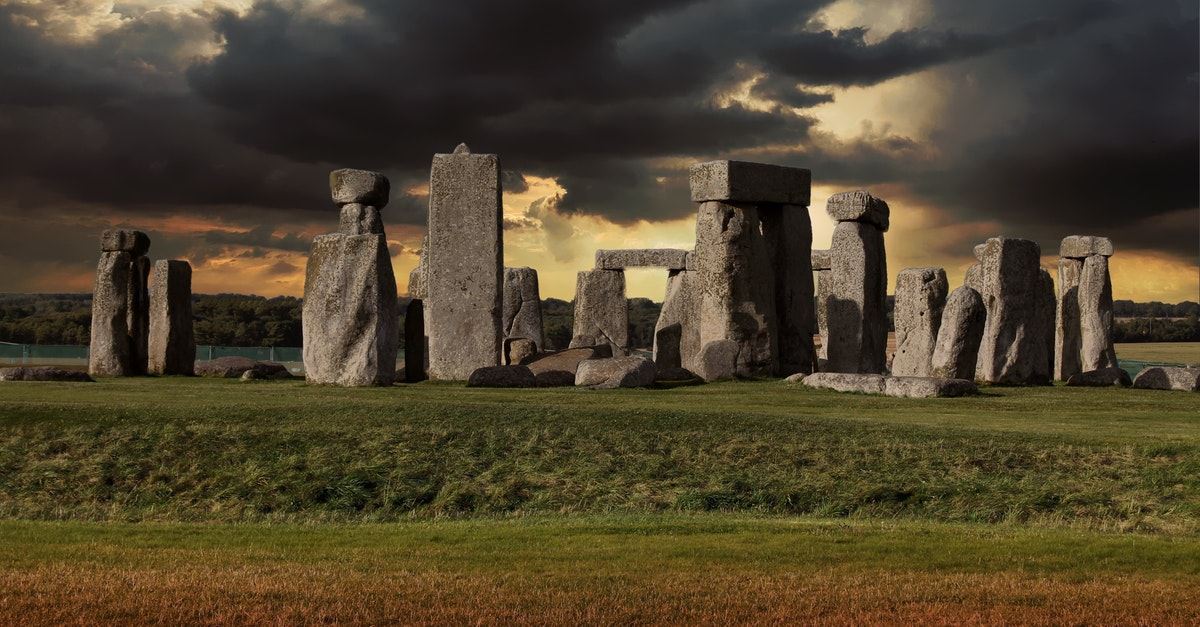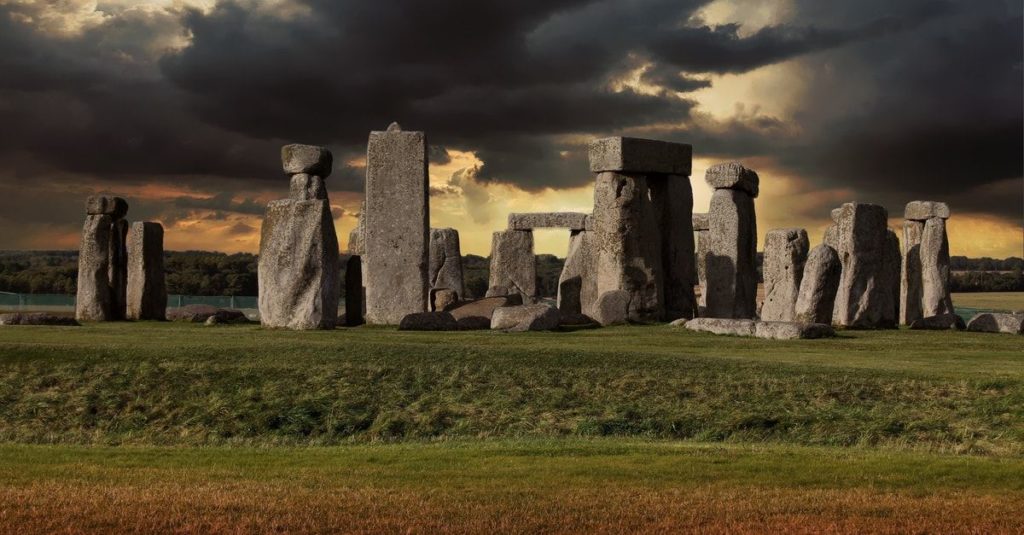 The term "Pagan" comes from the Latin word "paganus." In the strictest sense, Paganism has its roots in the pre-Christian religions of Europe. It goes as far back as the nomadic tribes of our early ancestors and flourished in the ancient civilizations of Greece, Rome, and Egypt.
When Christianity gained a foothold in the Roman Empire, it arose primarily in the cities. Those who lived in the countryside still believed in "the old ways," which the Romans referred to as Paganism. Early Christians used the term to refer to non-Christians who worshipped several deities.
Paganism became prominent in the 1500s when The Renaissance movement introduced the concept into mainstream culture. Ancient Greek ideas and symbols of Paganism were used in European literature, art, music, and ethics. Paganism took a backseat in the 1600s during The Reformation but made a comeback in the Enlightenment of the 1700s.
A growing interest in ancient civilization in the 17th through 20th centuries inspired scholars to explore the spirituality of ancient cultures in the British-Irish Isles and Europe. This led to the revival of Druid beliefs from which most contemporary Pagan groups trace their immediate roots.
Pagans began drawing from ancient and modern beliefs over the past century. The feminist and ecological movement in the 1960s and 70s found an ally in Paganism because of its views on the sacredness of the natural world, which they referred to as Mother Nature and the Great Goddess.
Why is Paganism often viewed unfavorably?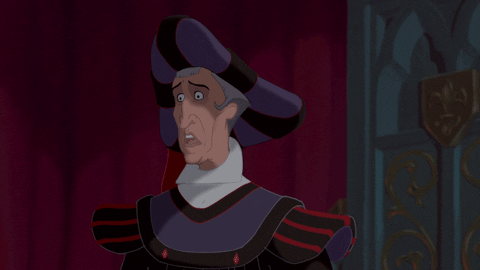 Today, Paganism is either shrouded in mystery or misunderstood. It's often associated with witchcraft, which is considered an evil practice, and believers are referred to as "devil worshippers" who are backward and primitive in their thinking.
Paganism got its reputation in Western society when the Catholic Church and other Abrahamic religions condemned it because it went against the Bible's teaching, specifically the ten commandments. Most pagan religions don't recognize a singular god because it's polytheistic or henotheistic and involves beliefs like ancestor worship, totemism, and animism.
A line says, "Thou shalt not suffer a witch to live," suggesting Paganism is a definite no-no. However, some people classify this as a misinterpretation and that it references poisoners and not witches.
Not many people realize that some of today's common rituals are from Paganism. Using natural herbs for healing, celebrating the change of seasons, and lighting bonfires are all Pagan. Some bizarre ones are not any different from some of the extremist sects in other religions.
Each pagan group has its own code of ethics, so it's impossible to label all of them as good or bad. Most Pagans today are moral and follow the norms and laws of society. Even if they are seen as eccentric, they are harmless with no directed intention of hurting others. Like everyone else, they are in the pursuit of truth, purpose, transcendence, and justice.
Humans have been Pagans as long as we've existed on the planet. Like other belief systems that followed, Paganism is simply a personal truth that people may or may not feel aligned to. A person's spiritual beliefs do not inherently make them good or bad. Their actions based on those beliefs say more about them than their religion.
The bottom line is that our spiritual beliefs are a choice that each person should make based on what resonates with them and not to please others. Whether it's Paganism in its entirety or certain practices that appeal to you, don't be afraid to make it part of your life.
How is Paganism celebrated today?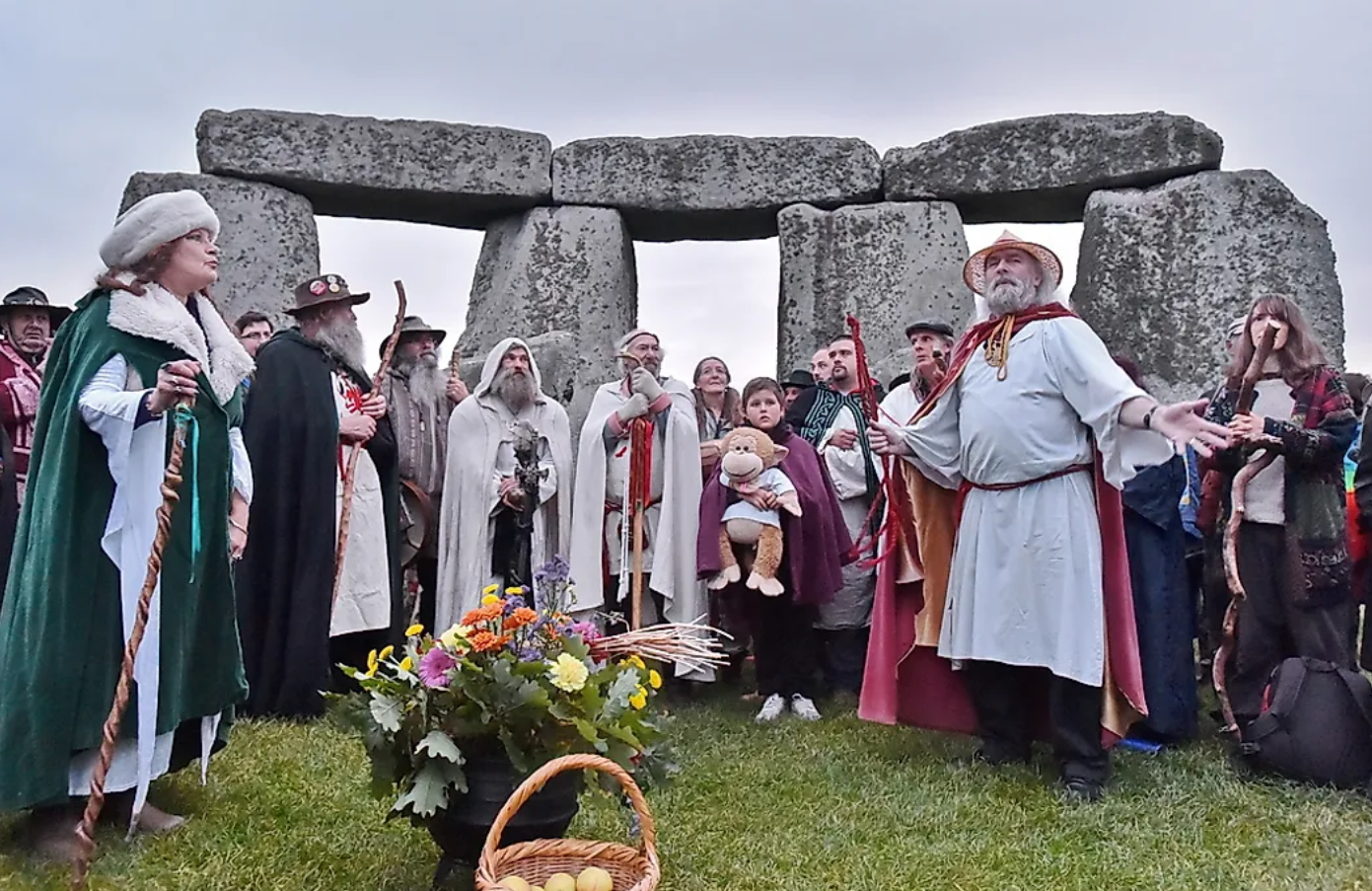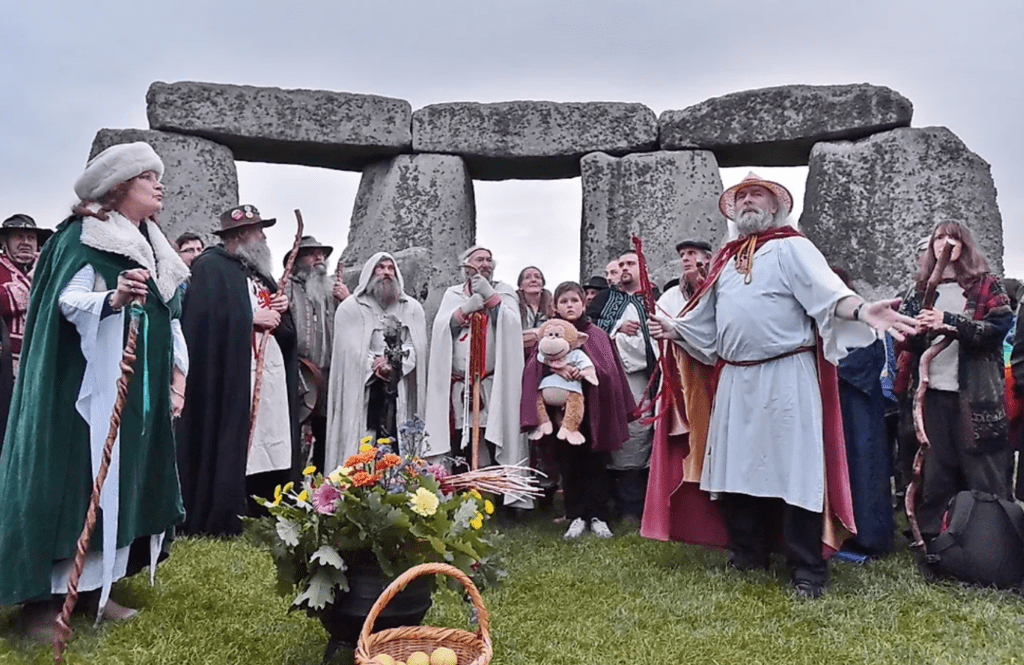 Paganism is growing in popularity as the New Age movement gains momentum. The New Age provides a viable alternative to the rigid structures of institutionalized religion by offering freedom and flexibility to form one's own beliefs and practices.
A popular belief among New Agers is that during the 21st century, humanity will experience large-scale evolution and a transformation in human consciousness, with people reclaiming their individual power while also reclaiming their relationship to the Earth.
Pagan practices match these aspirations — that's why it's common to find Pagan themes and motifs used by people who don't call themselves pagan. Pagan rituals are:
Diverse and can range from casual to formal in style; and simple to elaborate in scope.
Some are done with planning, while others spontaneously.
Some group rites are interactive and improvised, while others are scripted and theatrical.
Certain rituals are standardized and repeatedly performed.
Some are focused on deity worship or healing rituals. Some are celebratory, while others involve cleansing, protection, consecration, thanksgiving, and community building.
Colorful and include altars and ritual tools, like wands, chalices, incense, pentacles, crystals, and cauldrons.
Performed in silence while others are loud and exuberant, with cheering, singing, dancing, and drumming. Most Pagan rites have a mixture of sounds that include chanting, rhythm making, and silent meditation.
Performed during the day or at night and throughout the year on specific dates.
Sometimes combined by followers participating in other religious communities.
Pagans don't generally try to convert but instead educate people about their traditions through classes and retreats. Between the 1970s and the 1990s, Paganism was practiced in smaller groups called circles, covens, nests, or groves. After the mid-90s, solitary followers increased.
The internet has made knowledge about Paganism available to everyone, and more people prefer to practice it alone and only gather with a group on special occasions.
Halloween has roots in Celtic pagan theology. Our days of the week are named after gods and celestial bodies from Germanic, Anglo-Saxon, and Norse traditions. Practices such as blowing out birthday candles, kissing under the mistletoe, and knocking on wood originate from pagan traditions.
When it comes to rituals specific to Paganism, these are the most commonly practiced:
1. Building an altar: Pagans like to create altars that serve as a place of divinity where they perform rituals. They often have one in their homes or build one outdoors. Altars may contain various items, including ritual tools, personal power and beauty objects, natural objects, and photographs of significant people. At the altar, followers make offerings, go through healing and cleansing rituals, or meditate to achieve spiritual insight.
2. Wearing sacred attire: Pagans like to wear specific clothing, especially when performing certain rituals. They wear sacred jewelry with Pagan symbols like the pentacle, an interlaced five-pointed star often worn by Wiccans. Some pagans may wear Mjölnir, Thor's hammer, goddess figures, and natural objects like trees. They dress in colorful garb, like capes, robes, and garland crowns. Some wear body paint, street clothes, or wear nothing at all.
3. Celebrating human life passages: There are several rites that Pagans use to mark the important milestones in a person's life, like birth, coming of age, weddings, divorces, funerals, and burials. Sometimes rites are used to increase fertility, facilitate birthing, bless pregnancy, and bless a newborn child.
4. Performing magick: Pagans use a spiritual practice called magick (spelled with a "k" to differentiate from stage magic) to create change in their lives and the world. In the ritual, prayers are held, intentions are set, and energy is raised to manifest it by things like dancing, chanting, concentration, or breath exercises. Sometimes objects like jewelry, candles, or an altar object are used to focus on the intention.
5. Engaging in spiritual exercises: There are several spiritual exercises that pagans engage in daily. It can be as simple as performing a grounding meditation, lighting candles in the dark of the moon, saying prayers, or pouring water as an offering to ancestors. They may consult tarot, runes, pendulums, and astrology, and gain intuitive knowledge based on the movements of the natural world.
All beliefs and rituals ultimately serve as spiritual focal points that strengthen connections with ourselves, others, nature, and other sacred forces. No matter what path you choose, your life will be enriched and elevated to higher ways of being.
All my best on your journey,
Seline

Question for you: Which aspects of Paganism (if any) are appealing to you? Do you currently practice any of the rituals?
Did you like this post? Sign up below, and I'll send you more awesome posts like this every week.
Get My Weekly Insights Via E-Mail And Receive A Free Copy Of My New E-Book!
'The Fast Track Guide to Turning Your Dreams into Reality'