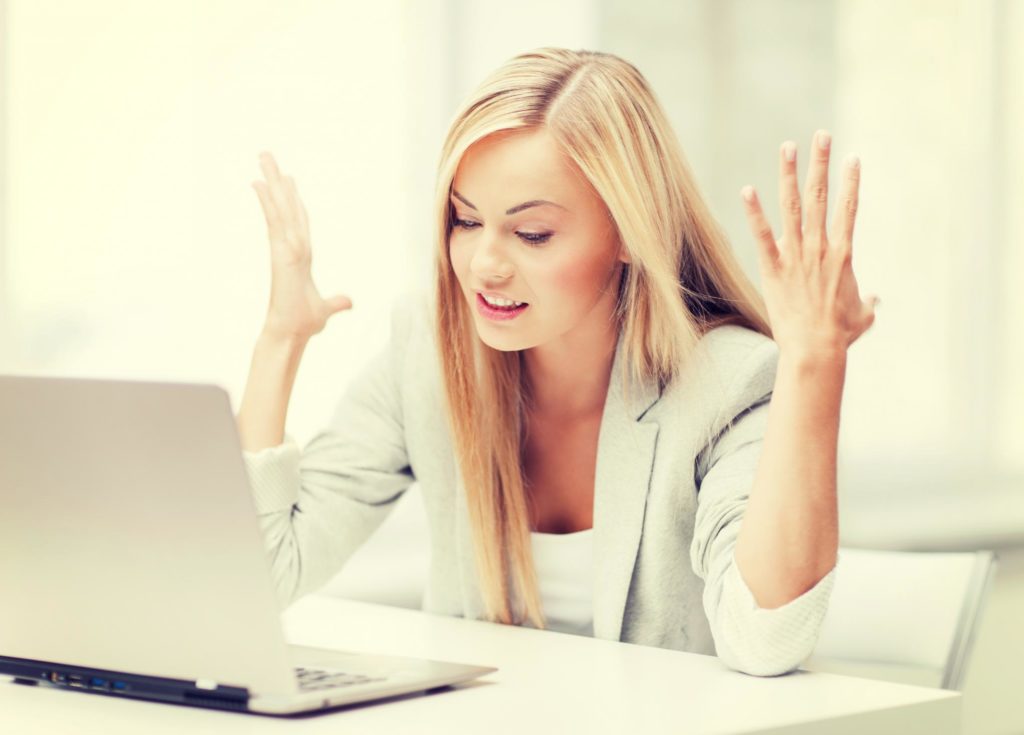 Complaining is a reactive response that occurs when we're unaware of the thoughts that are dominating our mind. If we can be conscious of this impulse, we'll be in a stronger position to shift it. Find out how complaining and blocks your abundance and what you could keep this tendency in check. (Estimated reading time: 5-6 minutes)
"If you don't like something, change it. If you can't change it, change your attitude."

— Maya Angelou
---
Let's face it – things won't always go our way.
Unless you're as tranquil as a Zen monk, you'll respond with disappointment, anger, and frustration. You might even let out a few expletives or whine about your woes to anyone that will listen.
Like scratching an itch, complaining feels good in the moment. We experience relief when we release pent-up energy. Complaining can feel much easier than taking responsibility. We avoid having difficult conversations and taking positive steps toward change.
Complaining and engaging in gossip are also forms of social currency. It's not uncommon to see coworkers standing by a water cooler, or a group of friends in a café pouring over the minutiae of their shared situations, events, and the people that annoy them.
These activities offer an illusory sense of camaraderie, solidarity, and connection which justify the claims of those in the group, bringing those in the circle together and rejecting those outside of it.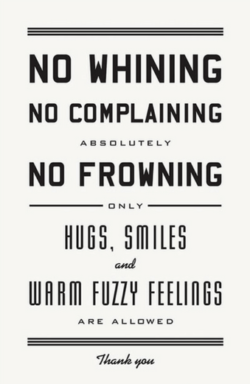 Complaining gives us a false sense of entitlement and power. Whenever I've witnessed an unhappy customer blow up on someone serving them, I could sense that the customer was driven by their ego and an overwhelming need to assert their control over the situation – even if their demeanor could hurt the one attending them.
Research has proven that the majority of people complain at least once a minute during a typical conversation. Because of its addictive quality, most people find it difficult to end this destructive mental loop. If we fail to intervene and put an end to this cycle, our brains get rewired in a way that makes complaining habitual, natural, and easily accessible to us.
According to studies, complaining is detrimental to our physical, as well as our mental well-being. A Stanford University study showed that the hippocampus (the area integral for rational thought and problem solving), shrinks the more you complain. Your body also releases cortisol (a stress hormone that compromises your immune system), raises your blood pressure, and makes you susceptible to diabetes, heart complications, and high cholesterol. While this may seem like an exaggerated case against complaining, I can vouch for it based on my own experiences.
Recently I found myself complaining about a certain family member. I've had a long and contentious relationship with her, despite trying to reconcile many times. After a frustrating encounter with her at a family event, I stormed out and fired a barrage of complaints about her conduct to my mother. My mom patiently listened and then offered some sage advice.
It cooled me down and brought me back into balance. I returned to my room, lit a candle, and meditated until I could fully calm my nerves and get a higher perspective from my wiser self.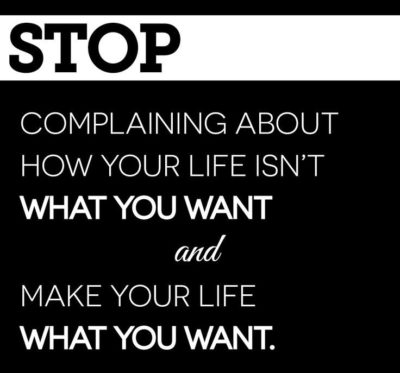 I realized from this experience that complaining is a reactive response that occurs when we are unaware of the thoughts that are dominating our mind. If we can be conscious of the impulse to complain, we'll be in a stronger position to shift it.
Instead of blurting the first thing that comes to our minds, we can, assert ourselves in a way that's constructive instead, and ensure that our voices are heard without causing damage or hurt. It's the style of complaint and not the complaint itself that is the negative.
Robin Kowalski, author of Complaining, Teasing, and Other Annoying Behaviors, says:
"You shouldn't just shut up and suck up whatever the world sends your way and whatever it is you're feeling. That's actually the opposite of what you want to do and it's unhealthy. Expressive complaining is usually cathartic and what we do when trying to blow off steam. Instrumental complaining, however, is a healthy way of communicating your feelings to someone else who is directly related to the problem because you want to bring about a certain goal. This can lead to positive experiences like self-awareness (mindfulness) and happiness."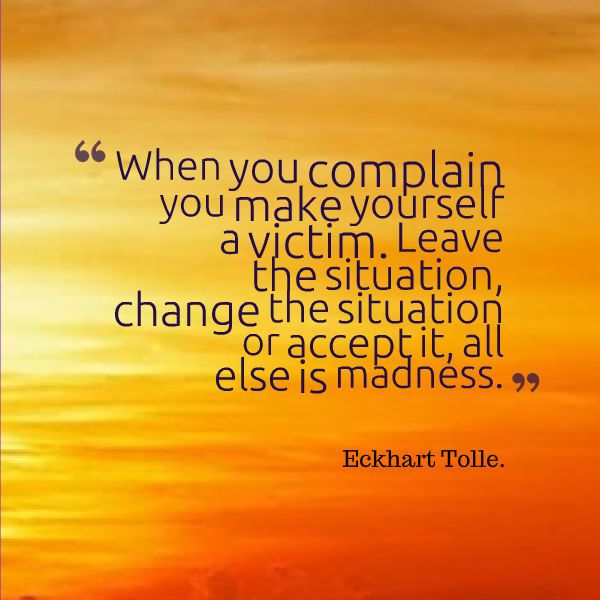 We already know that there's a heavy price to pay for chronic and unconstructive complaining. Here are four more reasons why complaining blocks abundance from flowing into your life:
1. You fail to take responsibility for your life: Very often people use complaining as a way to escape taking responsibility for their actions and put the blame on others instead. They may slip into victim mentality, claiming that they've been wronged. This sort of thinking blocks a person from seeing how they can change the situation for the better. Instead of engaging in the passive aspect of complaining, we can put it into action by facing the situation head-on. If you don't have control over it, simply change how you think about it and shift your focus.
2. People want to be around you less: No one likes to be around someone who whines all the time. Listening to someone's negative litany of complaints is a major energy drainer. If you've ever been around a friend who gripes about everything in her life, from her dating life to her finances, you know how exhausting it can be to listen and to cheer her up. People who complain too much drive other people away and end up missing out on making and keeping friends and partners, and meeting potential work contacts that could help them get ahead in their career.
3. You're unable to see the opportunities for growth: When you're too busy looking at the cracks on the wall, you miss out on all the space that's there and open for use. A habit of perpetual complaining will program your mind to only search for what's wrong in your life and surroundings, instead of focusing on what's going right. A growth mindset that's focused on progress will consider what isn't working and act to change it, while also putting equal (if not more) effort into searching for and capitalizing on opportunities for improvement and growth.
4. You forget to be grateful: It's hard to be in a state of gratitude when you're complaining all the time. Gratitude generates a feeling of warmth and abundance. Based on the Law of Attraction, the more appreciative that you are for all that you have, material or otherwise, the more you're likely to attract towards you. The next time you find yourself tempted to complain, take a deep breath and think of all the wonderful things and people around you. You'll feel an instant shift in how you see your life.
In Japanese culture, broken ceramics are often repaired with lacquer dusted with powdered gold, a technique called Kintsugi. These flaws are perceived as unique and believed to add beauty to the object, seeing its flaws as an enhancement, rather than something to be hidden.
If we could attempt to see the flaws around us (and within us) in this way, we would not only feel better about ourselves, but we'd be able to graciously accept the imperfection in everyone and everything we encounter.
All my best on your journey,
Seline

Question: Do you believe that complaining blocks your abundance? What are some steps that you're willing to take to complain less?
Did you like this post? Sign up below and I'll send you more awesome posts like this every week.
Get My Weekly Insights Via E-Mail And Receive A Free Copy Of My New E-Book!
'The Fast Track Guide to Turning Your Dreams into Reality'