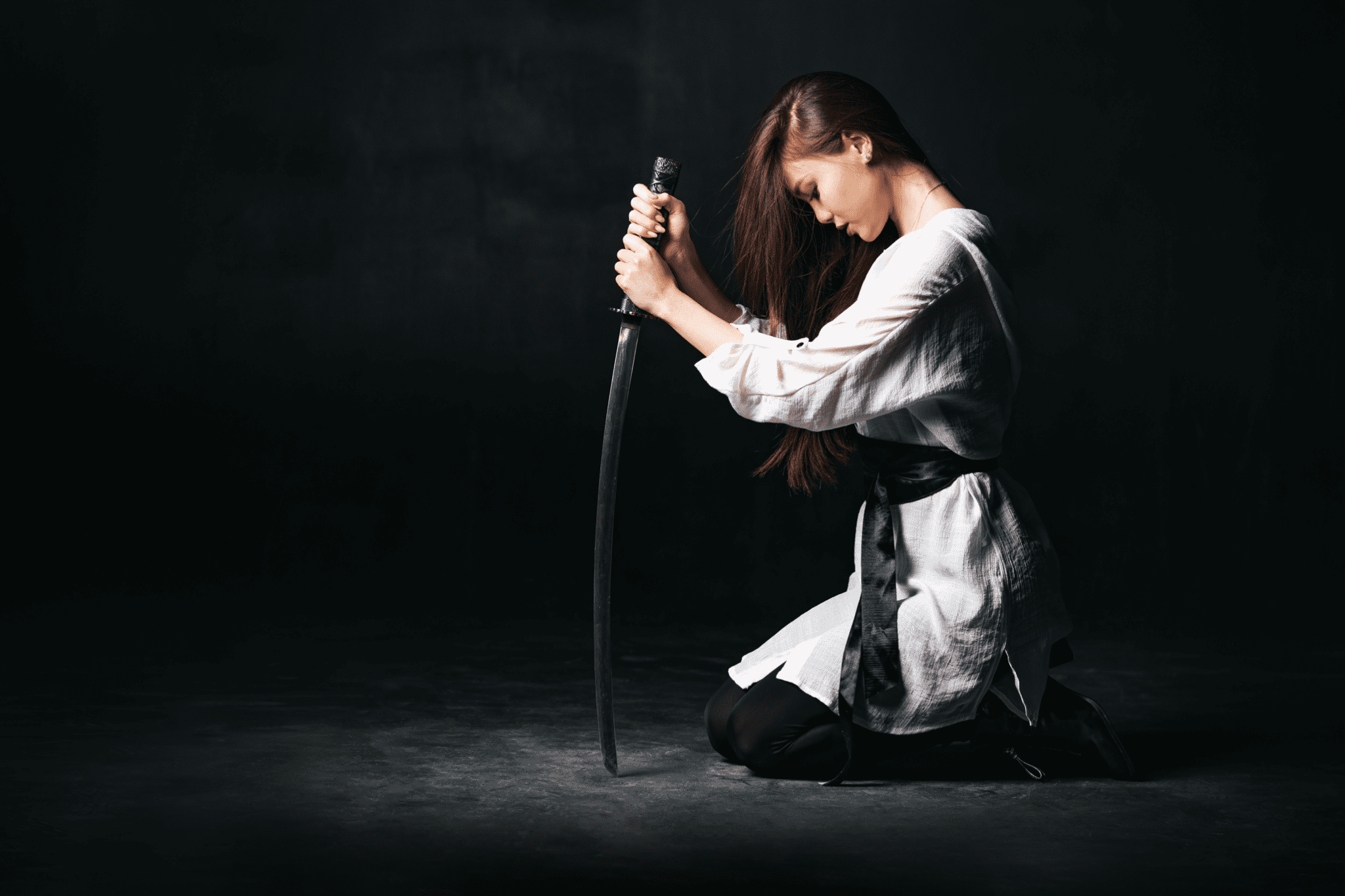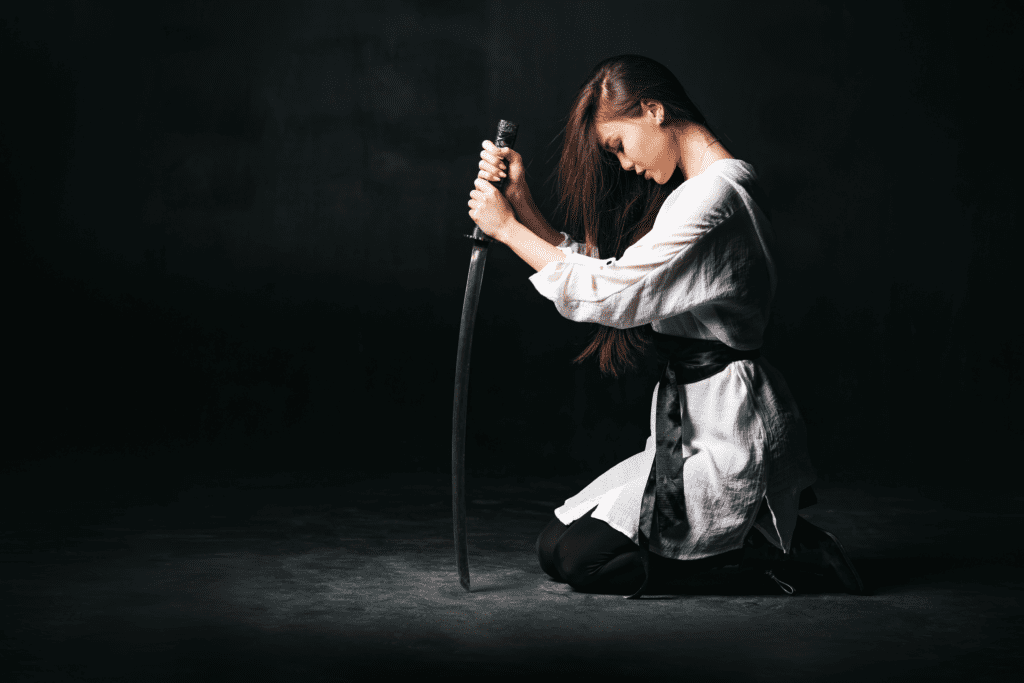 In today's information-overloaded world and always-on, staying focused throughout the day can be hard. Yet, we need our minds to be still, focused, and alert to achieve anything lasting. Many Eastern cultures that practice martial arts teach and embrace this way of being, including the Japanese, who call it "Zanshin," which means "the mind with no remainder." Learn how to apply zanshin in your everyday life to align your mind, body, and spirit towards intentional and purposeful living and be more focused. (Estimated reading time: 9 minutes)
"Your mind is your best weapon"

– Mark Hunt
While watching a martial arts fight scene in a movie, it can be hard not to admire the fighters' complex moves and dexterity. Whether it's Bruce Lee or Jackie Chan firing off a flurry of kicks and strikes, there is an unmistakable mastery and quiet power that cuts right through their opponents.
We see this in a big way in the movie "The Way of the Dragon," the last film starring Bruce Lee released before his passing. In it, his character must confront a worthy opponent played by Chuck Norris, who plays a karate master. After throwing off several kicks, he gets knocked down to the ground.
Soon back on his feet, Lee's character defeats Norris, using a mix of fighting styles, and gives him a chance to surrender. After Norris refuses, Lee kills him and places Norris' black belt on top of his body as a sign of respect.
Scenes like this one not only demonstrate Lee's fluid and fierce fighting techniques but also express his ability to control his mind, accentuating an image of the stoic and indestructible warrior. "Be like water making its way through cracks," Lee once said. "Do not be assertive, but adjust to the object, and you shall find a way around or through it. If nothing within you stays rigid, outward things will disclose themselves."
Lee's "be like water" principle is a psychological and philosophical approach focusing on a fighter's ability to react in combat consciously. It gives them the ability to have high awareness and focus to know when to attack, retreat, speed up, or slow down. In this state of mind, the fighter can generate maximum speed and make the most beneficial moves that produce the best effects.
These principles can be applied to everyday life as well. When we know how to "be like water" and stay in a frame of mind that is both relaxed yet focused, we can adapt to various changes and find appropriate solutions. For example, if you find yourself triggered by a snide remark made by a competitive colleague at work, instead of snapping back, remain calm and tactfully deal with it after you've had time to think about how best to approach the situation.
Disciplining the mind, especially in stressful and high-stakes situations, puts us in positions of power and infuses us with an inner strength to be more focused and take on challenges to move forward. Many Eastern cultures that practice martial arts teach and embrace this way of being, including the Japanese, who call it "Zanshin."
What is Zanshin?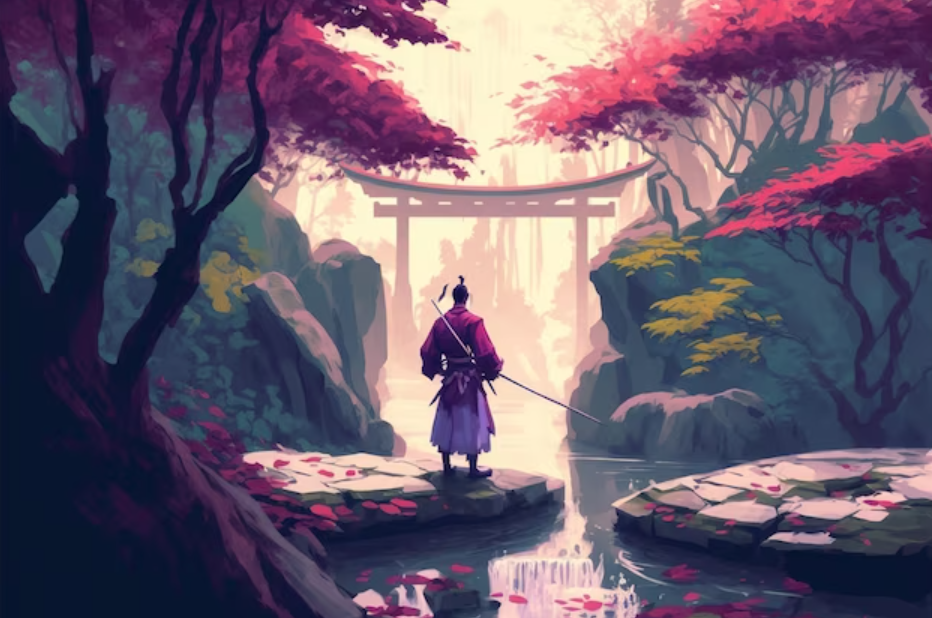 Zanshin is a term commonly used in Japanese culture to refer to relaxed alertness. The literal translation means "the mind with no remainder" or "remaining spirit." It is a concept found in Japanese martial arts like Budo and Karate, Kyudo (archery), Kendo (sword fighting), and sojitsu (spear fighting). It's also found in other Japanese arts like Sumi-e (ink painting), Chado (the tea ceremony), and Ikebana (flower arrangement).
In this state of awareness, your mind is fully alert, focused on action, and completely aware of its surroundings. In several martial arts, zanshin can also refer to body posture after you perform a perfect technique without being aware that you did it or your state of mind after a fight.
In practice, zanshin has a deeper meaning. It's a way of life that helps us be fully present in every moment and act in the here and now. We stay in this place regardless of the course of events, how far we have reached, and whether we're winning or losing.
When the mind remains still, fully vigilant, and aware of what's happening in the present, it lets go of any attachments to the past or present allowing us to be more focused. Zanshin can align our minds, bodies, and spirits toward intentional and purposeful living.
Why is zanshin so needed today?
We live in the most distracting time in human history. With the widespread availability of digital technology and the internet, we're surrounded by endless sources of distraction: emails, texts, pings from social media, and streaming services for videos, music, and news.
Even with our best attempts at focus, we find ourselves scrolling through social media or grabbing our phones the moment we hear a notification. It makes it almost impossible to avoid distractions.
A study on workplace distractions showed that the typical manager is interrupted every eight minutes, and employees generally spend 28 percent of their time dealing with interruptions.
Unplugging from technology leaves a void that can feel uncomfortable if we've been hooked. A 2019 study found that spending too much time on the internet, to the point of addiction, can negatively affect our mental health. Being constantly plugged in increases stress levels in people of all ages.
Besides modern devices, there are other sources of distraction in our environment and within ourselves that we must deal with, like a noisy mind and not being in healthy physical condition.
The cost of distraction is high when it comes to performance. Not only do distractions take away our time and energy, but they also take away two other abilities essential to success: traction and creative flow.
In his book, "Indistractable: How to Control Your Attention and Choose Your Life," author Nir Eyal describes traction as any action that moves us towards what we really want, whether that be working on a project, getting enough exercise or sleep, meditating, or listening to music.
"Traction is any action you do with intent. It's doing what you say you will do," Eyal writes. Distraction is the opposite of traction because it prevents us from accomplishing what we intend to do with our time.
While distractions may seem impossible to avoid, we have what it takes to become less susceptible to them. With attention and discernment, we can reclaim our time and focus. By embracing zanshin as a daily practice, we clear the pathway toward achieving extraordinary success and inner peace.
Practicing zanshin: The eight directions of awareness
When practicing zanshin in martial arts, students are taught about eight directions of awareness that they need to bear in mind while facing their opponents. These directions can also be applied to various areas of our lives.
1. Posture (Shisei): Use your body to facilitate your moves. You're prepared for both the expected and unexpected when your body is relaxed and elongated but ready for action at any moment.
2. Eye control (Metsuke): Keep a close eye on your environment. Observe everyone and everything and be prepared for any sudden changes.
3. Engagement distance (Ma-ai): This speaks to knowing who and how close a person can get to you. By taking note of this distance, you can create a safe and comfortable space for yourself that no one can disturb or take advantage of.
4. Focused energy (Kiai): Having complete focus requires you to manage your mind, body, and spirit. A calm, balanced, solid internal world allows you to focus on your target.
5. Connection (Ki musubi): Besides focusing on the outer world, you must shed light on what's happening inside you. Awareness of your thoughts, emotions, and how your body feels will allow you to tune in and tap into your inner resources.
6. Decisive focus (Kime): This refers to directing all your energy and mind power and channeling it towards one thing. For instance, when working on a project, you need to think about what you're doing at that moment and possibly the next steps. Allowing your mind to drift to a conversation you had in the morning or what you will eat for dinner will derail your progress.
7. Essence of the technique (Riai): Our culture encourages us to become faster and better, but zanshin tells us to do the opposite – to slow down and be more focused on quality. It's okay to take things one step at a time and focus on the journey, not the destination.
8. Awareness/intuition (Kanken): Your intuition is an asset. Train and tune into it by being quiet and still and noticing how your body feels. Awareness of what's on and below the surface will give you a clear perspective, allowing you to make wiser decisions.
How to apply zanshin in your life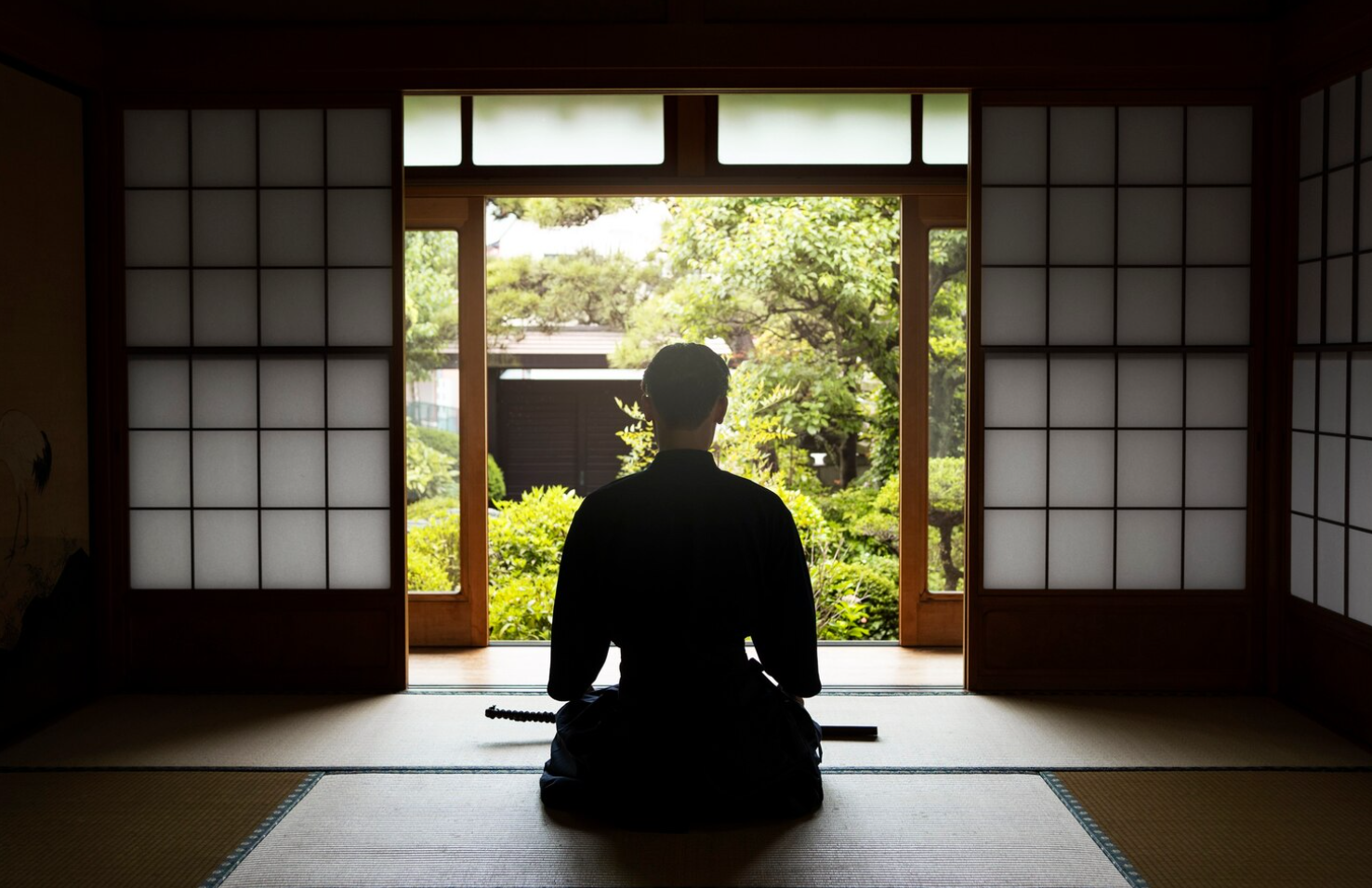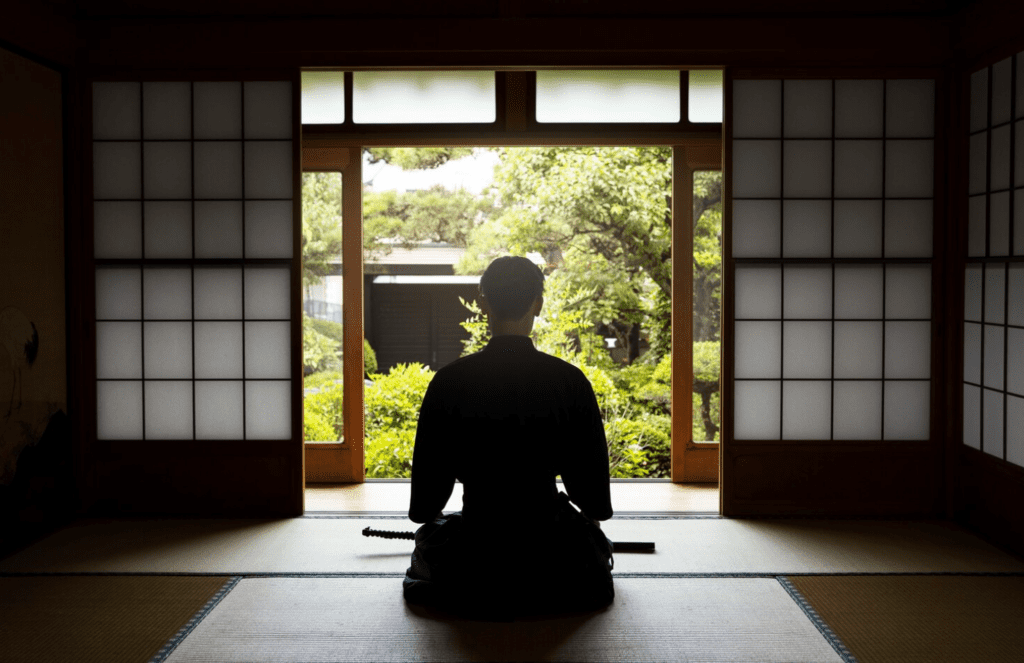 Using zanshin as a daily practice at home and work involves mastering skills like mindful awareness, clear intentions, and reflective pauses. Here are ways to achieve each one:
1. Practice mindful awareness.
A foundational practice of zanshin is mindfulness; mindfulness meditation is one of the best ways to achieve this. Create time and space to sit in a quiet, comfortable place without distractions. During this ritual, focus your attention on your breath, and if your mind wanders, slowly bring it back to breath. Become aware of the sensations in your body. Doing this practice once or twice a day will calm the mind and allow you to become fully present in your activities.
2. Focus on one task at a time.
It can be tempting to multitask with our seemingly never-ending to-do lists. But zanshin asks us to slow down and focus all our energy on one task at a time. Whether it's writing an email, speaking to a loved one on the phone, or preparing dinner, dedicating ourselves fully to one thing will improve the quality of our work and be more focused. To single-task, we must prioritize, create a schedule that works for us, and reduce distractions.
3. Eliminate distractions.
To fully immerse ourselves in a task, we must create an environment for focused engagement. That involves organizing a clutter-free workshop and keeping only relevant materials and tools. Depending on where you work, let your colleagues and family know when you would like to be uninterrupted during your periods of focused work. Turning off the notifications on your devices or silencing them is essential to developing a distraction-free environment.
4. Consistently practice and be patient with the process.
Zanshin teaches us to focus on the process. Slow, steady, and strategic progress toward realistic goals is better than hasty and quick actions that aren't well-thought-out. It's okay to begin with short sessions of dedicated effort and slowly increase the duration as our capacity grows. Over time, we'll see markers of improvement, and celebrating them can motivate us to take further action.
5. Develop the ritual of completion.
The ritual of completion helps us transition smoothly from one task to another. After completing something, pause for a few moments and take a few deep breaths before moving on to the next thing. During this pause, we acknowledge ourselves and recognize our achievement in finishing a task. The ability to transition intentionally strengthens our sense of clarity and prevents mental residue from lingering in our minds.
6. Engage in physical activity and take regular breaks.
We become more productive and powerful if we know when to dial down the intensity. Regular, scheduled breaks during which we stand, stretch, take a brisk walk, and a few mindful breaths are essential for maintaining sustained focus. Engaging in physical activities such as biking, running, yoga, or a sport will rejuvenate us and enhance our ability to stay present and attentive.
Our minds are a gateway to accessing the deeper layers of life. The practice of zanshin shows us a path that can take us down to depths where we can experience the sublime. From this place, we can discover our creativity, ingenuity, and power to make the invisible visible.
All my best on your journey,
Seline

Questions for you: What aspects of zanshin will you adopt to help you become more focused? What specific tasks will you apply this to?
Did you like this post? Sign up below, and I'll send you more awesome posts like this every week.
Get My Weekly Insights Via E-Mail And Receive A Free Copy Of My New E-Book!
'The Fast Track Guide to Turning Your Dreams into Reality'