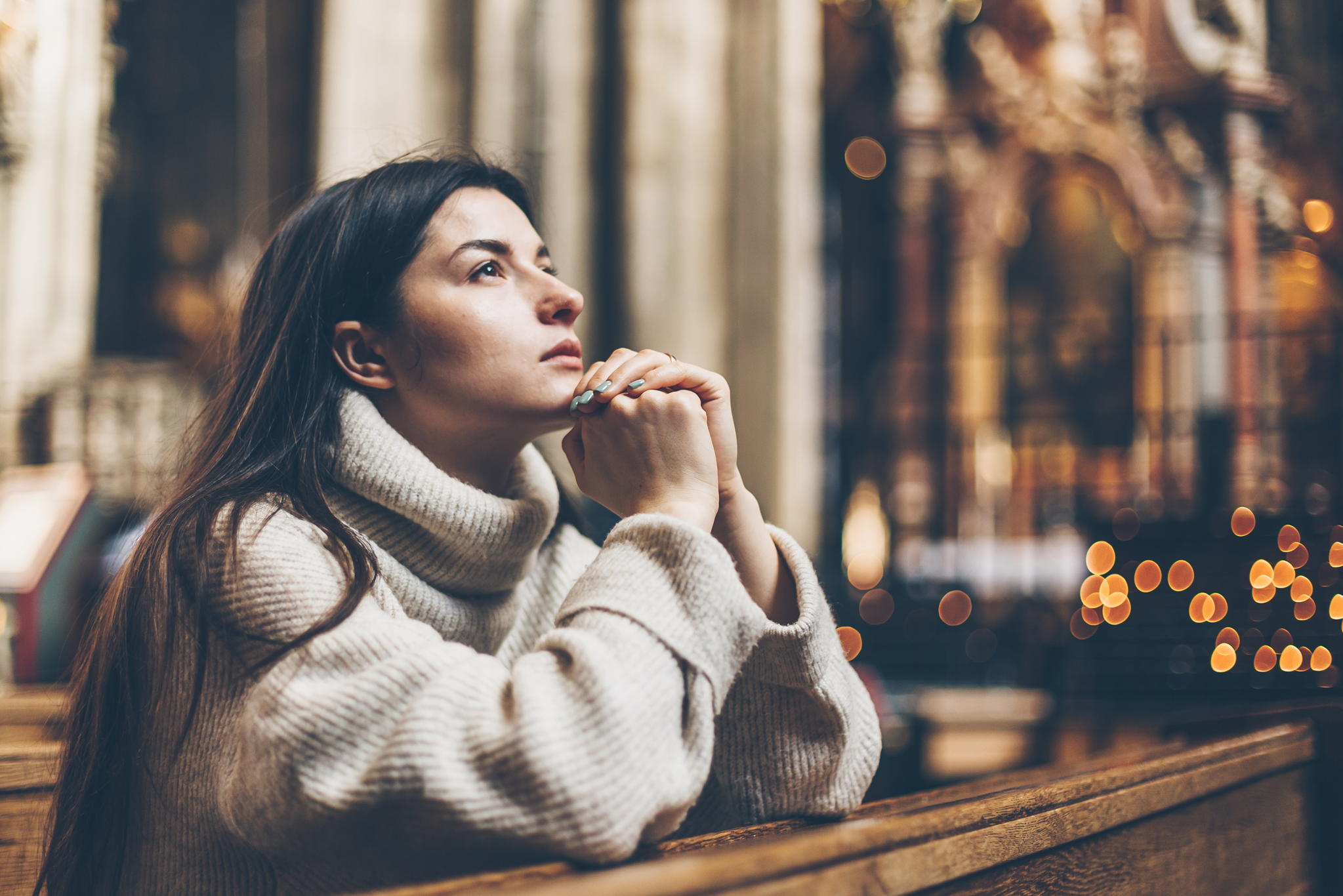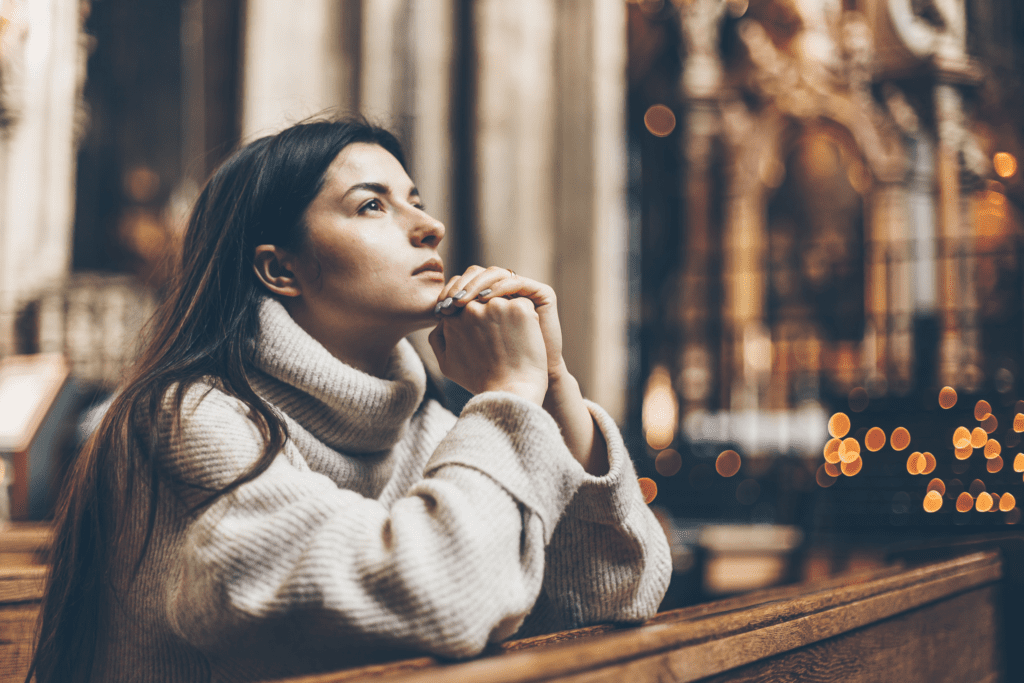 There is a smorgasbord of religions around the world. Each faith tradition captures our culture, history, and practices that get passed down through generations. If all religions are correctly understood, we'll see that they are simply different windows we use for looking at higher realms of living and being. By learning about the differences between monotheism and polytheism, we'll broaden our horizons and participate in cultivating religious tolerance in our society so that we can coexist in harmony. (Estimated reading time: 11 minutes)
---
"All religions must be tolerated… for every man must get to heaven in his own way."

— Epictetus
---
"We respect all religions here in Morocco. It's not unusual to see a synagogue and mosque on the same street or a Christian burial and a Muslim one side by side," our tour guide said as he fiddled with his spectacles. "In life and death, we are all one."
This information took me by surprise. After all the study and research about religions, how did I not know such a place existed?
Regardless of the extent of liberty offered, it was nice to know that the leadership in this unassuming nation located in the corner of North West Africa recognized the importance of "freedom of thought, expression, and assembly," as stated in its constitution.
There are many religions, faiths, and spiritual practices around the world. This variety is thanks to a kaleidoscope of unique traditions and cultures across the globe. Each faith tradition, just like language, captures our culture, history, and practices and is passed down through generations.
Religion has been a contentious issue for most of human history. People were tortured, murdered, and vilified on the grounds of their faith. This is still a reality for many.
Everyone who practices a religion believes that their faith is the correct one. Even if there are more similarities than differences that span different religious practices, adherents often remain fiercely focused on the correctness of their chosen path.
Why do we do this?
Religion is all about belonging. When people's sense of belonging is threatened, they start believing in absolutes, which their group affirms. This increases the divide between them and people of other faiths.
However, respect for religious freedom isn't just a deeply held value. It is a fundamental human right. Instead of being catalysts for division, we can instead view religion and faith as windows through which we can view higher realms of living and being.
By learning about the differences between monotheism and polytheism, we'll see that they cannot be in contradiction as they all teach similar moral principles and offer practices, comfort, wisdom, and community that anchor us as we ride the ups and downs of life.
Religion today: why we still need to believe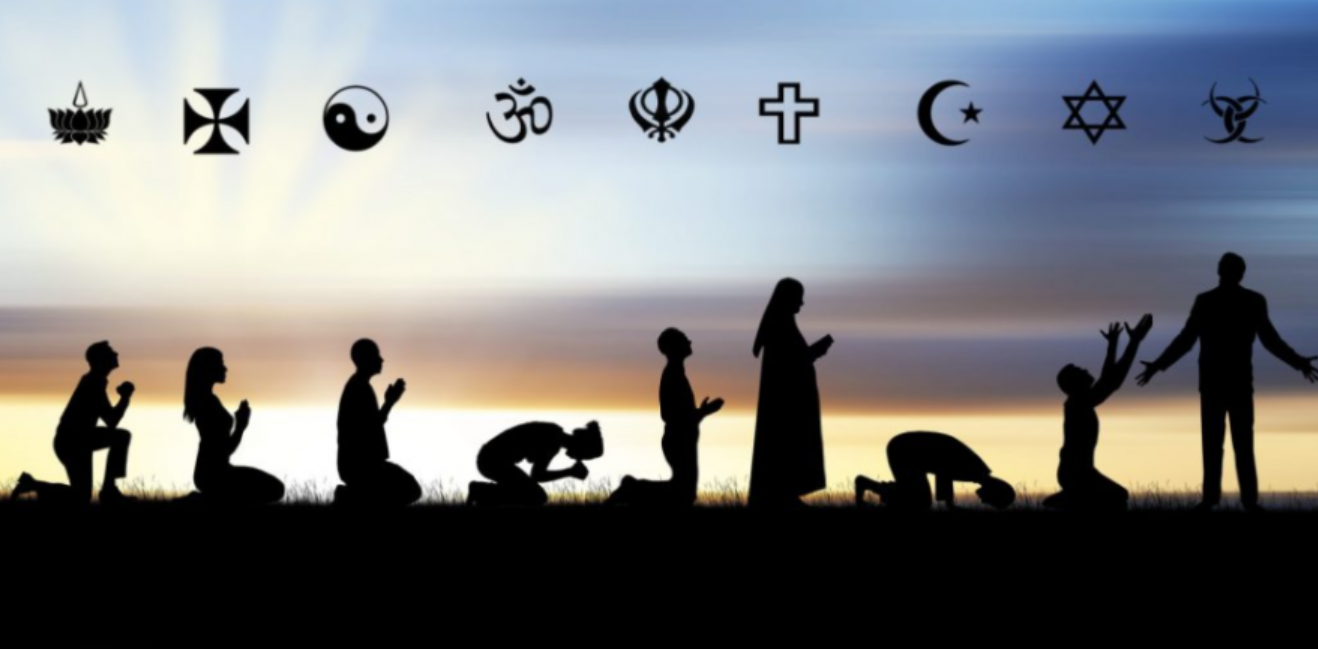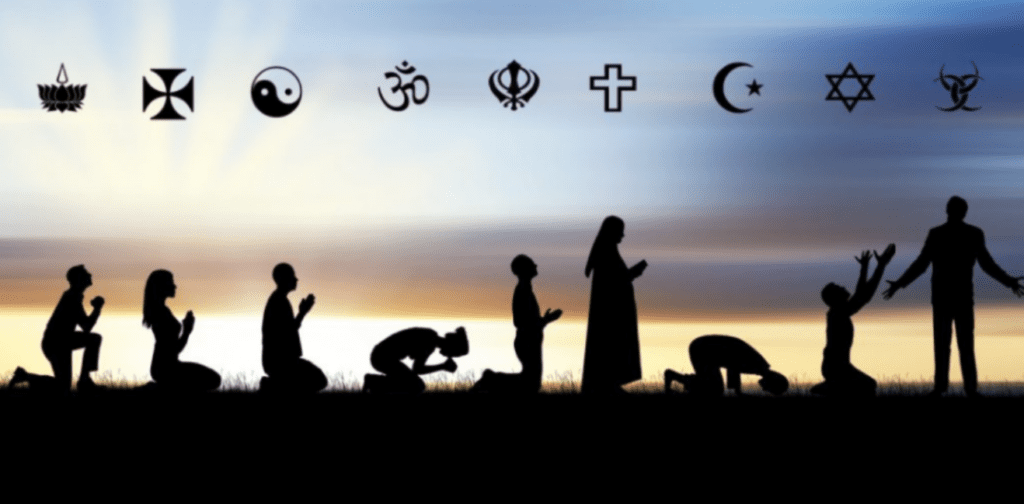 Religion is a specific set of organized practices and beliefs shared by a group. Each religion has different teachings and rituals, but they all reveal a spiritual dimension to life and offer ways to access it through prayer and other practices. Spirituality is a personalized practice that people create to access the same sense of meaning, peace, and purpose.
Many studies show that there has been a decline in the number of people who adhere to a defined religion worldwide. One study showed that 43 of the 49 countries observed between 2007 and 2019 became less religious.
While there are a growing number of atheists and agnostics, it does not mean that religion is irrelevant. It's estimated that 84% of the global population practices some type of religion – that's over 6.9 billion people.
Their beliefs range from long-established faiths like Christianity to more modern spiritual traditions like Wicca. They encompass monotheism and polytheism.
Most people follow one of these five major religions: Christianity, Islam, Judaism, Hinduism, and Buddhism. However, there are many more religions in the world, and each major denomination may also have completely distinct offshoots.
The religious profile of the world is rapidly shifting, driven by the size of the youth population, fertility rates, and people switching belief systems. A 2015 Pew research study shows that Christians will remain the largest religious group over the next four decades, but Islam will grow faster than any other major religion. If the current growth trend continues, Islam will catch up by 2050.
With over 4200 estimated distinct religious belief systems, it's clear that humans have a deep need for faith.
There are many theories about why we have religion. An early view is that our hunter-gatherer ancestors needed it to foster tolerance and cooperation in their clans. This was the initial impulse that influenced our need to believe.
Over time, humans realized that religion (monotheism and polytheism) benefited them in practical and emotional matters. Here are eight reasons behind the human inclination for reverence and piety:
1. To understand their place in the world. As meaning-seeking creatures, we want to understand the different phenomena and become conscious of how and if we can impact them.
2. To feel a sense of belonging. We are social animals with a deep need for community. Religion offers the container of safety and familiarity that we naturally crave.
3. To create stories about cultures and history. We have immense works of art, literature, myths, stories, and history rooted in religion. It's an effective way to preserve heritage and culture.
4. To receive support in daily life. Religion can offer support when we need it, whether through the power of prayer, a community of like-minded people, or consulting a holy person. It comforts us as we face the perils and uncertainty of life.
5. To find consolation in an afterlife. The promise of an afterlife was a significant source of comfort for people throughout history. An idyllic afterlife excited them and made it easier to endure hardships in their everyday lives.
6. To experience peace and compassion. Worship practices involve music, dance, and prayer that evoke the right brain sensations of euphoria and transcendence. For the weary and the crestfallen, religion offers heart-opening experiences that make us feel good and boost our empathy.
7. To make sense of evil. Human beings are capable of doing evil things. Religion offers solace and redemption for those who feel that they have been wronged. Knowing that those who have committed atrocities will pay for their acts in the hereafter makes people more responsible and accountable.
Ancient beliefs: a brief history of early religion
Religion did not appear to be a significant part of human culture until the Neolithic period. During this time, Shamanism developed, especially among pastoralists in northern and central Asia. Ancient animism and rituals were prevalent in these communities.
Animals such as falcons, eagles, and ravens were considered higher beings. Hoofed animals like oxen and sheep were used as sacrifices, and bulls were considered holy. Horses were domesticated and connected with divinity.
The presence of human skulls from the early period of agriculture suggests that ancestor cults existed at this time. Human and/or animal sacrifice was a prerequisite for a robust and successful harvest.
It was in the first early civilizations that religions began taking form. Most ancient religions were polytheistic. From Mesopotamia to Greece, or Rome to ancient Israel, they worshiped several gods. The Greek pantheon was ruled by a council of twelve great gods known as the Olympians: Zeus, Hera, Poseidon, Demeter, Artemis, Apollon, Ares, Athene, Aphrodite, Hephaistos, Hermes, Dionysos, and Hestia.
In Ancient Egypt, people believed in many gods, a few of which took the form of animals, like Anubis (Jackal), Bastet (Cat), and Horus (Falcon). Ra was the sun good and the king of all gods. The pharaoh was also seen as divine and considered both man and god.
However, there were several monotheistic ancient religions as well. For instance, each Sumerian city-state had a god that took on human forms and traits. Religious ceremonies were conducted at the temple in the city's center called the ziggurat.
Later Zoroastrianism, an ancient Persian religion that may have originated as early as 4000 years ago, was monotheistic. They believed in one god, Ahura Mazda, and their holy book is Avesta. It's thought that Zoroastrianism influenced the major monotheistic religions that developed later.
It's important to note that ancient people didn't distinguish themselves as being followers of monotheism and polytheism. These labels didn't have any bearing on the existence of their gods. They may have viewed multiple gods from different religions emerging from the same holy source. 
Knowing the differences between monotheism and polytheism makes understanding the various beliefs and practices easier.
What is Polytheism?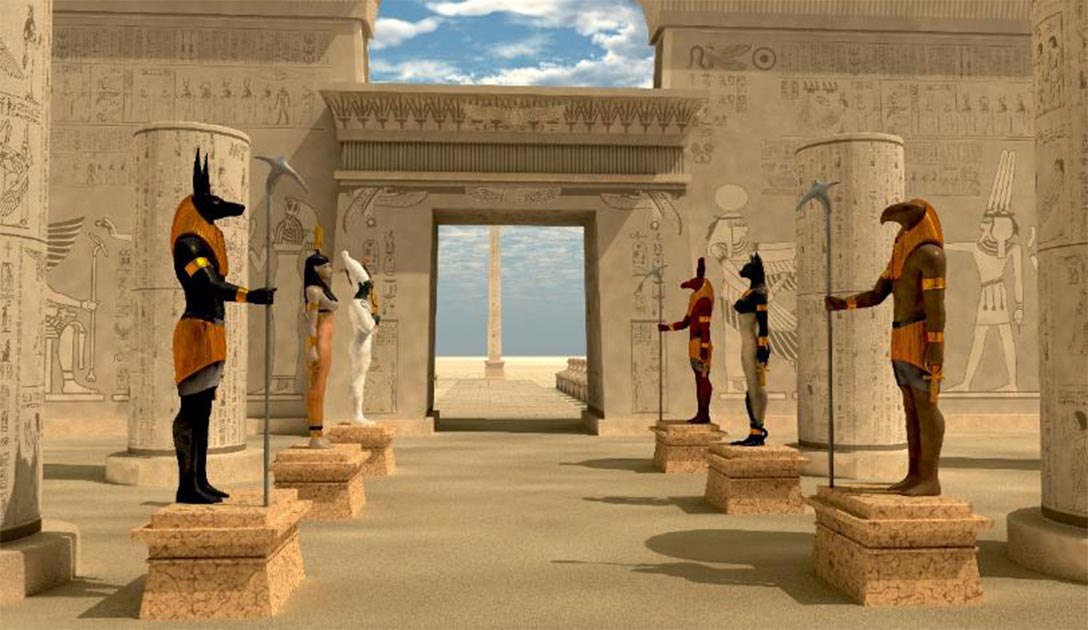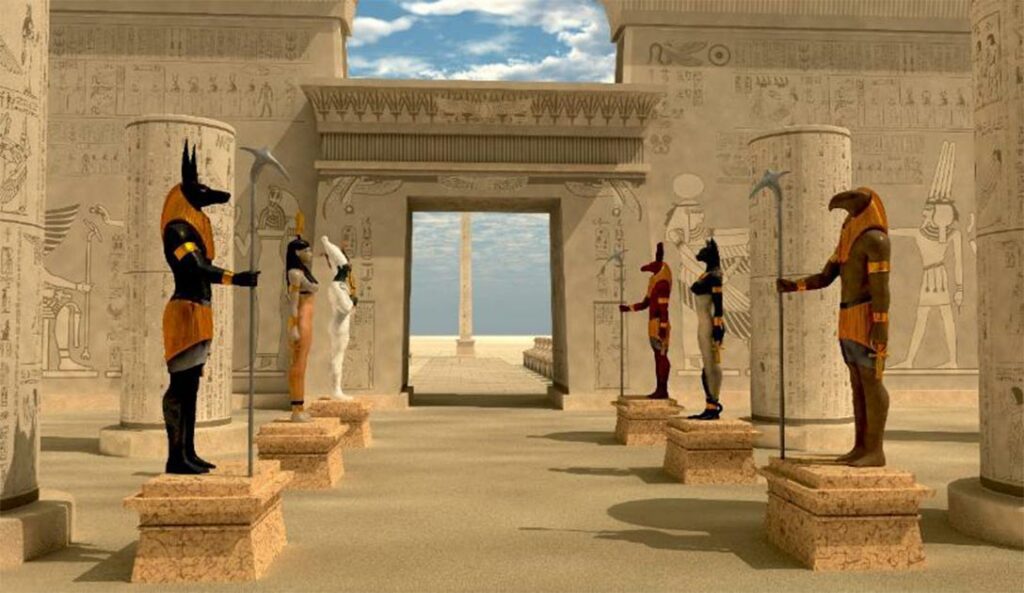 Polytheism is a belief or doctrine that multiple gods, goddesses, or deities exist. The gods and goddesses are connected to ancestors or forces of nature, such as the sun, moon, water, and sky. Others are associated with love, wisdom, tricks, creation, fertility, arts, music, farming, the afterlife, and death.
These deities exhibit personality traits and unique powers or abilities expressed in the culture's stories and folklore. Each is seen as autonomous or a manifestation of a creator deity or an absolute transcendent force.
A person who believes in multiple gods is called a polytheist. Followers do not always worship all gods equally and may choose to develop their worship to one in particular. Some polytheists worship different deities at different times, such as specific festivals and holidays.
Sometimes the gods are considered less important than the higher aspiration of the belief system, like in Buddhism. In belief systems like that of Ancient Greece, there is one dominant god, like Zeus. Most polytheistic religions believe in ghostly and demonic forces and malevolent supernatural beings that could harm and tempt us into doing wrong things.
Hinduism is often considered a polytheistic religion because of the many gods in the pantheon. However, there is an understanding that there is an underlying unity among all the gods, and they represent the different aspects of one supreme being, The Brahman.
Examples of polytheism: Greek and Roman mythologies, Mesopotamian deities, Ancient Egyptian Gods and Goddesses, Norse mythology, Hinduism, Shintoism, Wicca, and African tribal and folk religions.
What is Monotheism?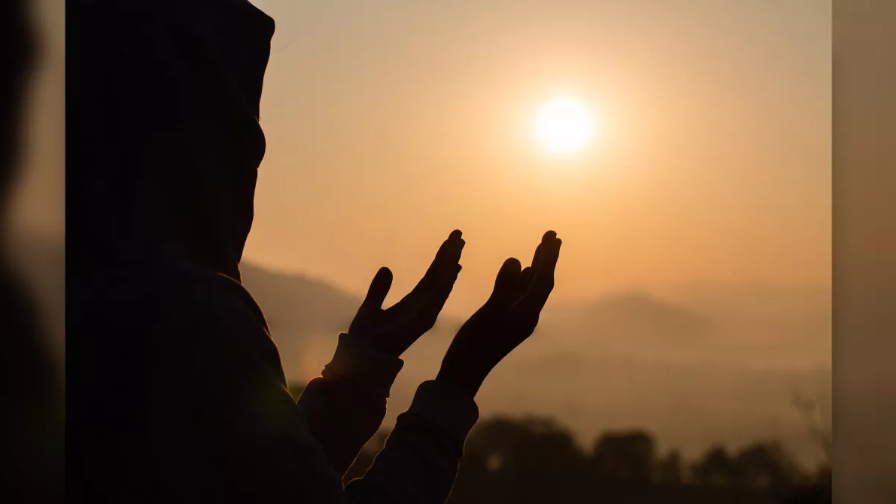 Monotheism is the belief in a single god, considered to be the supreme being. This one god is responsible for creating the world. The term is usually used to describe followers of specific monotheistic religions, but it could also be used for a person who does not adhere to one belief system but who believes that there is one god.
Those who believe in one god are called monotheists. Some monotheistic religions are stricter and more focused on their idea of god than others, which can lead to controversy when it comes to worshiping other types of spiritual beings.
Strict monotheists believe there to be only a single, personal god, while the more general monotheists view god as a single force or a series of gods who share a common unity. An example of broader monotheism is panentheism, in which divinity lives in every part of creation, as in the case of Hinduism.
Many of the world's major modern religions can be considered monotheistic. However, some are difficult to categorize. For instance, Henotheism refers to the worship of one supreme without denying the presence of less superior gods.
Monolatrists believe that there are many gods, with one god prominently worshiped. There were examples of this belief in history when a king or ruler of a particular civilization decided to elevate one god above the pantheon of other gods. The rulers were often considered gods, as in the case of Egyptian pharaohs, who were supposed to be seen as supreme and exalted, specially chosen to rule their kingdom.
Examples of monotheism: Christianity, Judaism, Islam, Zoroastrianism, and Sikhism.
How to respect other religions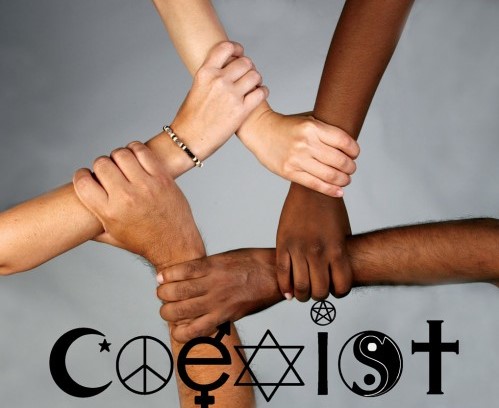 In most cities today, people of many different beliefs and faiths live side by side. This gives us plenty of opportunities to work together to tackle the world's most pressing problems and build a society we all treasure.
But this can only happen when we have mutual respect, trust, and openness. That means finding and practicing our own faiths (monotheism and polytheism) and allowing others to do so as well. This may seem like a tall order considering that religion has been a significant cause of conflict and violence.
The only way we can overcome discrimination and misunderstanding is to understand what spawns them. When we spend time understanding other faiths and listening carefully to different perspectives from a place of non-judgment, we'll see that we have more similarities than differences.
Here's how you can participate in cultivating religious tolerance in our society:
1. Be informed
The first step to respecting other religions is to learn about them. If you don't agree with their beliefs, knowing more about them could make it easier to respect their choice and even "agree to disagree." Hostility and judgment turn into empathy and acceptance.
Educating yourself about other religions also broadens your horizons and expands your perspective. You'll begin to see the world and your own beliefs differently.
The more you learn, the more you'll avoid the stereotypes often fed. Here are some things you can do to educate yourself:
Read a book and articles about a specific religion or spiritual movement.
Take a world religion class.
Watch shows and movies, and listen to radio shows and podcasts that cover religion and culture.
Attend talks on different religions.
Research things you were always curious about or specific questions you've had.
Be sure that the sources you consult are accurate and authentic, as there's a lot of misinformation out there that can give you the wrong impression or influence your views.
2. Engage in dialogue
One of the best ways to learn about other monotheism or polytheism religions is to converse with people of different faiths. Whether it's a friend or a neighbor willing to educate you, let them know that you genuinely want to learn and find a deeper understanding of their perspectives on the divine.
Keep these rules in mind when speaking with them:
Embrace your curiosity and remove all preconceived notions and assumptions when listening
Ask well-thought-out questions that are respectful, and reply with kindness
Allow the person to share their responses without interrupting or getting defensive
If you feel triggered or feel the need to argue, stay calm and remind yourself that everyone has a right to their personal beliefs
When speaking about your own religion, do so without trying to convert the listener and use inclusive language
Find commonalities outside religion that can help you connect as human beings. Maybe you're both mothers, or you're both Star Wars fans. Embracing commonalities will bring you closer despite your different religious beliefs
3. Observe and witness practices
Immersing yourself in key ceremonies and festivals, in monotheism and polytheism faiths, can give you an experience of religion. If you have a friend or know about an event open to the public, start there. For example, seeing a bar mitzvah, a Diwali puja, an Iftar during the holy month of Ramadan, or a Greek Orthodox wedding firsthand can provide insight that a book or article cannot. You could even visit places of worship in your locality or during your travels. Be sure you know the etiquette and get permission beforehand to be respectful when you attend the ceremony.
The cynic in you might say that living in a world where people of different faiths cooperate and live together peacefully is idealistic. While there is a reason to feel this way, we should not let it get us down. When we dare to hope for a better way for our society to function, we counter the disillusioned consciousness and inject it with aspirations that move us to change for the better.
All my best on your journey,
Seline

Question for you: Do you follow a religion? If so, does it fall in monotheism or polytheism? How have your beliefs impacted you and the way you view the world?
Did you like this post? Sign up below, and I'll send you more awesome posts like this every week.
Get My Weekly Insights Via E-Mail And Receive A Free Copy Of My New E-Book!
'The Fast Track Guide to Turning Your Dreams into Reality'