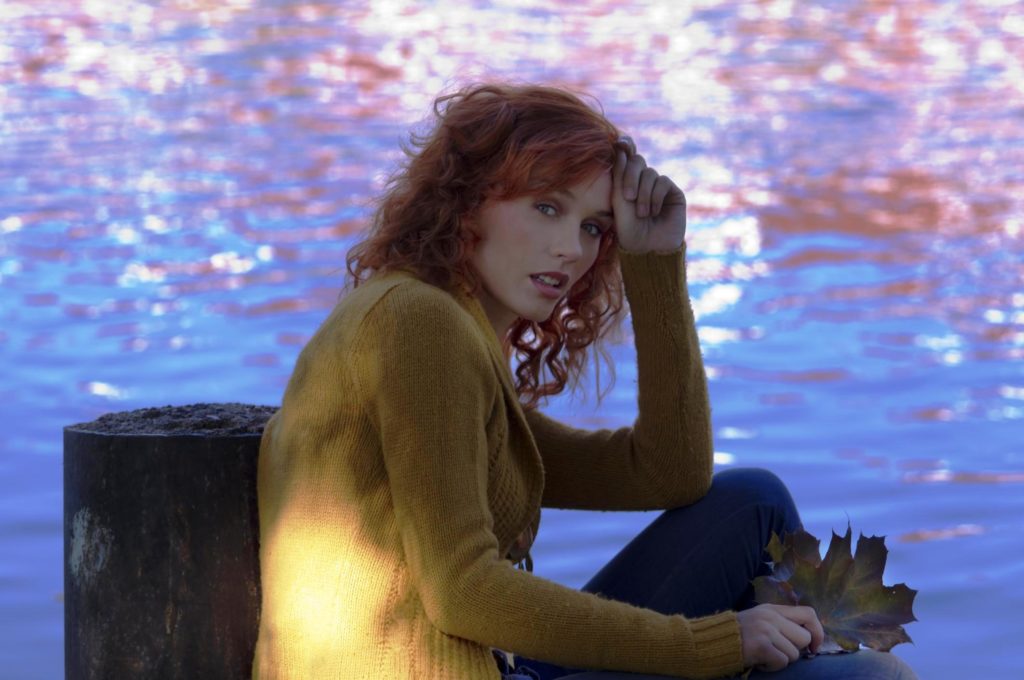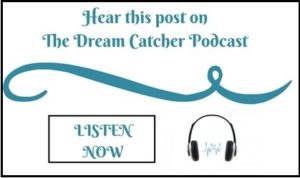 "Respect yourself enough to walk away from anything that no longer serves you, grows you, or makes you happy." – Robert Tew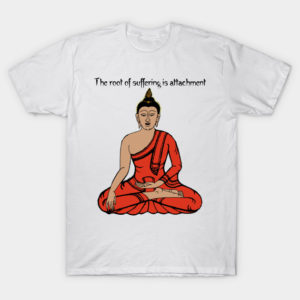 "The root of suffering is attachment".
These words, accompanied by an image of Buddha in his usual calm repose, emblazoned a T-shirt that I purchased from a rustic new age store in London. I waltzed into this enclave for free spirits, nestled in the serpentine streets of an artsy bohemian district on one of my visits.
I bought it on an impulse during my late teen hipster phase, not fully understanding what it meant at the time. It wasn't until later that I could comprehend that it alluded to the emotional struggles associated with attachment to the material.
We've all been guilty of holding onto things much longer than necessary. No matter what your friends and family told you at the time, nothing could convince you to let go.  You were incapable of envisioning your life differently; incapable of letting go, because of the time and heart you had invested in certain situations and relationships.
Having grappled with the experience of stepping out of situations that weren't right for me, I'm intimately familiar with the emotional nuances and pain points associated with it. Everything seemed okay on the surface, but my deep, interior world was turbulent. The wise voice of my intuition was in opposition to the stories and narratives I had concocted to support my choice to stay.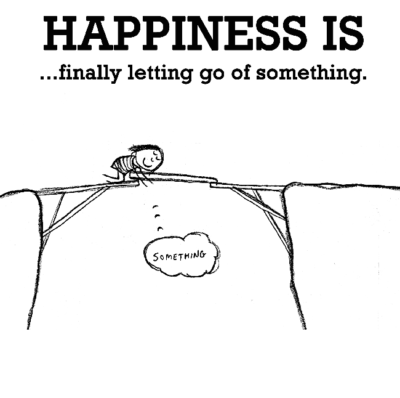 If you have a tough time liberating yourself from things, people, places and memories, know that what you're going through isn't easy. As a social and emotional being you're naturally wired to get attached, and stay attached. Our caveman ancestors needed to form close bonds to their tribal community and stay on familiar grounds in order to ensure their survival and safety. This instinct has not changed. We still associate familiarity with comfort and safety.
We continually need to placate the concerns of our inner control freak. Our need for certainty, of knowing what's going to happen next, makes letting go the equivalent of blindly jumping off a cliff. No matter how bad the situation is we'd prefer to stick with the old and familiar. As the saying goes, "better a known devil than an unknown angel."
The entertainment industry doesn't make it any easier with its endless supply of songs, movies and sitcoms that glamorize the pain associated with longing for something that we can't have. Who hasn't indulged in a breakup playlist filled with love ballads from the likes of Adele and Mariah Carey? A guilty pleasure like this, one that takes us into the depth of our sorrow to swim in a melancholic stupor, can be addictive.
But, no matter how much we try to embellish the truth, to stay sheltered in our cocoon of denial, we can't escape the consequences of our choices. Newton's third law of motion, and the law of Karma, clearly state that every action must have an equal and opposite reaction. Our refusal to leave an unhealthy situation, or relationship, isn't excluded from this universal law.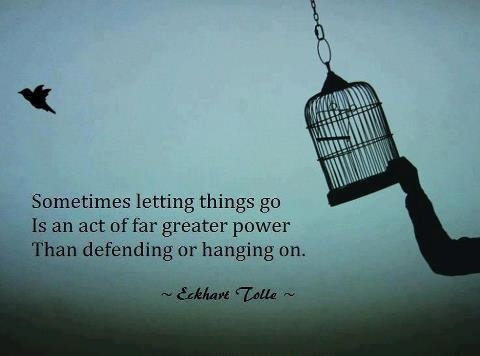 It turns out that there is a high cost for not letting go, especially if you know that it's not serving your best interests. According to medical intuitive, Caroline Myss, these attachments create anchors in your psychic energy field, which essentially blocks prosperity from entering your life. Staying a captive hemorrhages your personal power and self-esteem that will eventually manifest in the form of physical ailment and illnesses.
Clinging to people and situations that aren't aligned with our truth limits our capacity to access happiness; you're going against the natural, universal order, and denying change. Like breath, life is a process of letting in and letting go. It's a pulsating rhythm that permeates everything. When we resist it, we feel pain.
The process of letting go isn't formulaic. It's a sacred process that's carried out with a sense of reverence, trust, and faith that we're always supported. We need to respect what it is to be human, by honoring our feelings and the mysterious journey of life. We need insight to realize that the act of detachment is an evolutionary mechanism that builds character, and infuses you with the emotional stamina of a warrior.
Here are three steps that you can use as a general guide for the process of letting go:
1. Process your emotions in a healthy way: The process of letting go must begin with the task of coming to terms our feelings about what we're leaving behind. The most common emotions that people experience are sadness, distress, worry, insecurity and anxiety. These are heavy-duty emotions that shouldn't be ignored. We need to find healthy ways of processing them so that we don't lose ourselves while grieving. It takes courage and fortitude to face your wounds. Very often people prefer to use the Band-Aid approach to assuage their pain by masking it with addictions. But, time does not heal all wounds. We need to proactively work on letting go. Some steps you can take to recover include speaking with a therapist or someone you trust, journaling, holistic healing methodologies, or spending time in quiet contemplation. All of this helps you reach a point called the Graceful Exit where you acknowledge the value of a certain career, relationship, or life stage, accept that it has run its course, and admit that it's time to move on.
2. Change your perspective on the situation: Once you're able to shed some light on your own emotional state, you'll have the objectivity to develop a more positive perspective on what you're going through. A lot of the activities that I mentioned previously, such as working with a therapist, and journaling, can be very helpful in this regard. In addition to these practices I recommend reading relevant books, and watching movies with stories that you can relate to. I also like to look at things from a higher and symbolic perspective by connecting the dots and seeing how all of it fits into the narrative of my life. I use my experiences as a springboard for self-discovery by accessing the deeper recesses of my mind. I do this by asking myself insightful questions such as, "what is this experience trying to teach me?", "what are the lessons that I can learn from the process of letting go?", "which fears are causing me to hold on?", and "what's the worst that can happen?" Joseph Campbell once said that you don't need strength to let go of something. What you need is understanding. When we gain higher awareness and see the big-picture, we'll be more willing to let go of the life that we planned, and embrace the life that's waiting for us.
3. Lighten up and get out there: After you've done the work of processing your emotions and closed old chapters, you'll find that your load becomes progressively lighter. You'll become a magnet that attracts people, objects, and events that resonate with your persona and your values. Synchronicities and coincidences will draw in exciting opportunities for better and healthier circumstances to materialize in your life. Keep in mind that grieving about the loss of something, or someone, is rarely a linear process with a predictable timeline. There will be spells of sadness that might creep up, but with time it'll become less frequent and intense. You need to keep going and proactively seek out situations where you can bask in the lighter aspects of living. Allow the rays of laughter, love, and joy to pierce through the darkness in your world. Engage in activities that you're passionate about, and seek to build connections with like-minded individuals who are on the same wavelength and bring out the best in you.
As you begin engaging with new energies in your life, from a place of conscious self-awareness, you'll be convinced that life does not end after you let go. Instead, it transforms you and takes where you'll be able to experience new people and things, leading to personal growth and evolution. As Deepak Chopra once said, "In the process of letting go, you will lose many things from the past, but you will find yourself."
All my best on your journey,
Seline

Question: Do you have a tough time letting go of something that no longer serves you? What specifically do you find challenging in these situations?